WordPress can be learned to operate in anywhere from two hours to two years. It all depends on what you want to achieve. Do you want to publish a few simple articles on a straightforward blog? Or are you looking into managing an extensive online store? How long it takes to learn WordPress depends on what you want and need.
WordPress is designed to be easy to use and can be comprehended by virtually anybody with even the most fundamental computer abilities. It has a user-friendly interface and straightforward setup. This allows everyone to build or manage websites.
Read more: What is WordPress and how does it work?
It is possible to learn the basics of WordPress in a few days or weeks, but it may take longer to become an advanced user. There are a few factors that affect how much time it takes to learn WordPress:
The complexity of your goals: If you are just looking to create a simple blog or website, you may be able to learn WordPress more quickly than if you are trying to build a complex e-commerce site or membership platform.
Your familiarity with technology and websites: If you feel comfortable using technology and websites, you might grasp some aspects of WordPress more easily.
Your familiarity with web development and coding: If you have experience with web development technologies, you may be able to learn WordPress more quickly.
The amount of time you are able to commit to learning: The more time you are able to devote to learning WordPress, the more quickly you will be able to become proficient with it.
Let's take a look at how long it takes to learn WordPress on average, assuming you will start with zero knowledge.

Basic knowledge (a few days)
If your goal is to create a simple blog or website, you may be able to learn the basics of WordPress relatively quickly. This includes tasks, such as:
Setting up a basic WordPress site on a domain name (www.yourwebsite.com).
Learning the menu structure of the WordPress administration dashboard.
Creating and publishing basic posts and pages.
Adding and customizing basic layouts and functionality.
Managing user accounts and permissions.
Within a few days of learning WordPress, you should be able to have quite a good understanding of how WordPress and the administration dashboard work. This helps you to set up a simple new website or make basic changes to an existing website.
Read more: Our starter guide helps you understand the fundamentals of WordPress.
Build a basic website: You can build your basic website within days (or even hours) using our Create A Website Guide.
The example below is a screenshot of a website you will be able to have up and running within a short amount of time. It contains a couple of basic elements, simple blog posts, and a few nice photos. It doesn't have advanced designs or extensive features yet.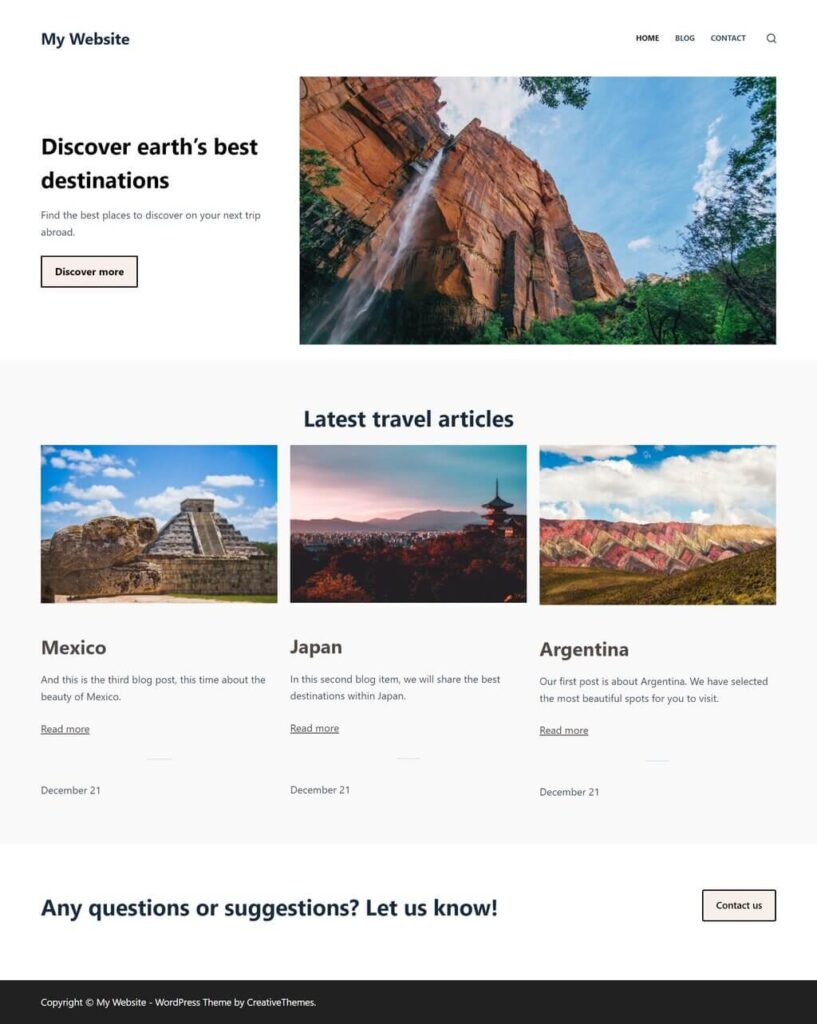 If you are learning fast…
If you are a fast learner, there are a few other things you might be able to do within a couple of days, such as:
More customizations of your site: You can make more basic customizations to your WordPress site, such as changing the color scheme, adding custom fonts, and modifying the layout.
Adding media to your site: You can add and manage media, such as images, videos, and audio files.
Using plugins, widgets, and menus: You can add and customize plugins, widgets, and menus on your website to add new functionality and improved navigation.
Basic SEO techniques: You can optimize your website for search engines by using basic SEO techniques, such as adding keywords to your content and changing titles.
With more time and practice, you can continue to build on these skills and learn more advanced concepts.
Intermediate knowledge (a few weeks)
In the first couple of days, you learned the core features and functionality of WordPress. After a few weeks, you start to learn more advanced concepts.
Until now, you might have used pre-built web pages. And the things you made or managed were relatively simple. At this point, you can take a next step. You really start to make great things yourself from scratch. You will understand how bigger, great-looking websites are built. This includes things like:
More design- and feature-heavy pages and posts.
More design customizations of different parts of your website.
A deeper understanding of how plugins work and enhance your website.
Basic third-party implementations such as email marketing tools.
Building multilanguage pages.
You will notice that with every step you take, it becomes easier and easier to make websites.
If you are learning fast…
If everything goes well, you could learn more complex features. You will most probably not dive into technicalities yet, but instead, develop a better look at how good websites truly work. A few examples are:
How to effectively get ideas from your head onto a web page or post.
How to structure lots of text into smaller, comprehensible content blocks.
How to use photography or icons to attract attention and elevate your website.

Advanced knowledge (a few months)
This is the stage in which you become an advanced professional. It opens lots of new opportunities.
At this point, you are able to use advanced guides and tutorials that help you to realize those features you really wanted. This helps you to confidently build almost any type of professional website.
In the first weeks, you used simple plugins to add basic functionality to your website. Sometimes, those were a hit-and-miss. At this point, you know the ins and outs of many plugins and a few themes as well. This enables you to implement many desired features and build your website the way you want.
You are not limited to simple blogging anymore. You are quite confident to build and manage advanced applications, such as:
E-commerce stores
Fully multilingual websites
Membership websites
Custom post types and taxonomies
By using advanced plugins such as ACF, you can create and manage custom fields. This enables you to implement additional data and self-invented functionality to your website.
You'll also be able to troubleshoot common issues. Overall, at this point, you feel more comfortable experimenting with your website.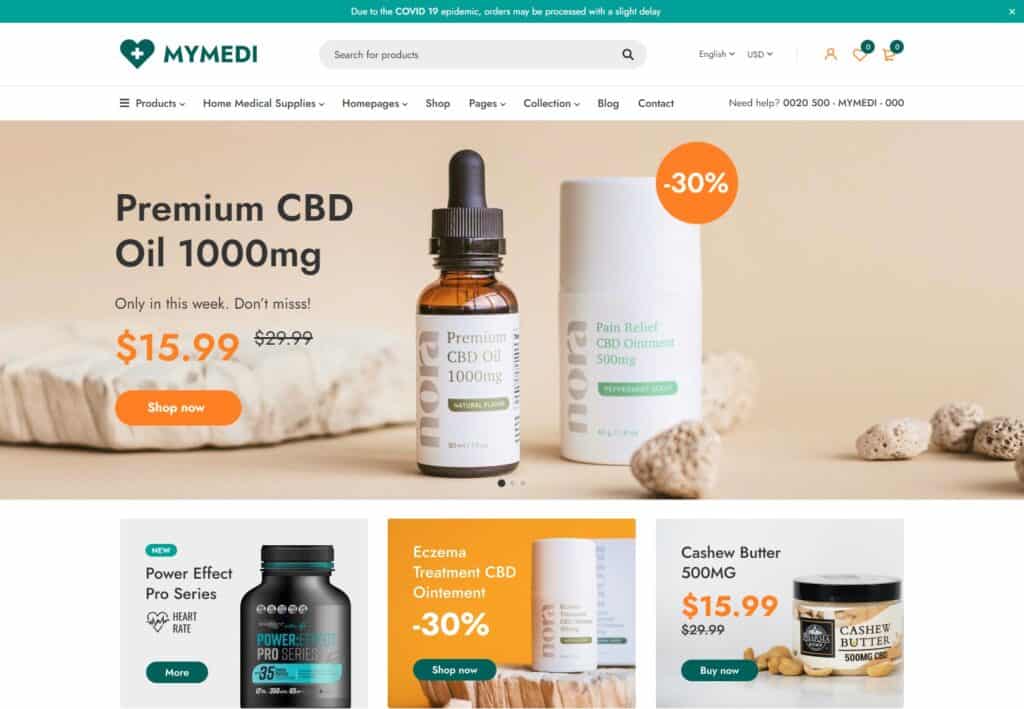 If you are learning fast…
After a few months, you will learn things that can only come with practice. You look deeper than just building a lovely website. For example, you may develop websites that are specifically optimized for mobile devices. Other examples are:
Building a better user experience. You design websites in such a way that they not only look great but are accessible too.
Finding the best layouts for your pages. In the first weeks, you might have designed pages you didn't like but you couldn't grasp why. Now, you develop an understanding of what works and what doesn't. And how great copy and photography play a role.
Using basic design principles. A basic foundation of design principles such as typography, layout, and color theory elevates your website.
Optimizing website performance. You can optimize the speed and performance of your site. You know how to use caching and other performance-enhancing techniques.
Updating your website without problems. You are able to safely backup and update your website. And if anything happens, you can troubleshoot common issues.
Using advanced plugins. You understand some of the most commonly used WordPress plugins and how they can enhance your websites (or not). Think of sliders, security, advanced forms, and popups.
Website management. You know tips and tricks for working with WordPress at scale, including how to manage multiple WordPress websites and how to use WordPress in a team environment.
If you are technically savvy, you might even be able maybe to write a few lines of code. You could start with CSS, the easiest language to learn. It is used to style any element of your website.
Expert knowledge (a year and more)
WordPress is very powerful and versatile and can be used for almost any type of website and application. After a year, you start to become an expert. This is the moment you find out how to build literally anything you want.
You can stay within the comfort of available plugins and themes. This means you don't need to code anything. A few examples of what you might achieve if you do this are:
Easy realization. If you want a new page or feature, you immediately know how and where to start. ECommerce? No problem. Custom filters? Also no problem.
Understanding psychology. You have a deeper understanding of the psychology of websites (such as usability, accessibility, and user experience design) and can consider building award-winning websites.
Full optimization. You know the ins and outs of the most popular plugins and can optimize your website based on plugins that better suit your needs.
Styling anything you want. By picking the right themes and gaining basic knowledge of HTML and CSS you will be able to style all elements of your website.
You can also take a bigger step and practice actual development as a WordPress developer. By learning PHP and becoming proficient in HTML and CSS you can:
Code custom solutions.
Implement self-built design styles.
Build integrations with any external API and services.
Use advanced tools, such as Cloudflare, to optimize your website to the smallest details.

After experiencing WordPress for one year or more, you will have gained a deep understanding of the platform and a wide range of skills that you can use to build advanced applications.
Conclusion
In conclusion, it is difficult to pinpoint exactly how long it takes to learn WordPress. It depends on a variety of factors such as your prior knowledge and experience with web development and design, and the amount of time you spend learning and practicing with WordPress.
That being said, it is possible for someone with little to no web development experience to learn the basics of WordPress within a few weeks or a month. For this, you need dedicated practice and the use of resources such as online tutorials and courses. However, becoming proficient in WordPress and all of its features can take much longer and may require ongoing learning and practice.
Ultimately, the amount of time it takes to learn WordPress will vary from person to person and depends on what you want to achieve.