WordPress is constantly updated with new features and security patches, which means it's important to perform regular maintenance to keep the performance and security of your website(s) in good condition.
A WordPress maintenance contract is an agreement between two parties – the website builder and the owner – that ensures a website is always up-to-date and maintained.
This WordPress maintenance contract can include various services, including:
Updates to the WordPress core
Updates to themes and plugins
Website backups
Security checks
Uptime monitoring
Speed optimization
Technical support
Why is a maintenance contract necessary?
The main benefit of a WordPress maintenance contract is peace of mind for both the website owner and the website builder.
Benefits for the website owner
A website owner knows that their website is in good hands and any problem will be quickly addressed. This minimizes the risk of errors or viruses, which can damage business reputation. It saves time and money because you don't have to update your website yourself or stress out when something goes wrong. It also prevents potential security issues or downtime, which saves a lot of time and money in the long run.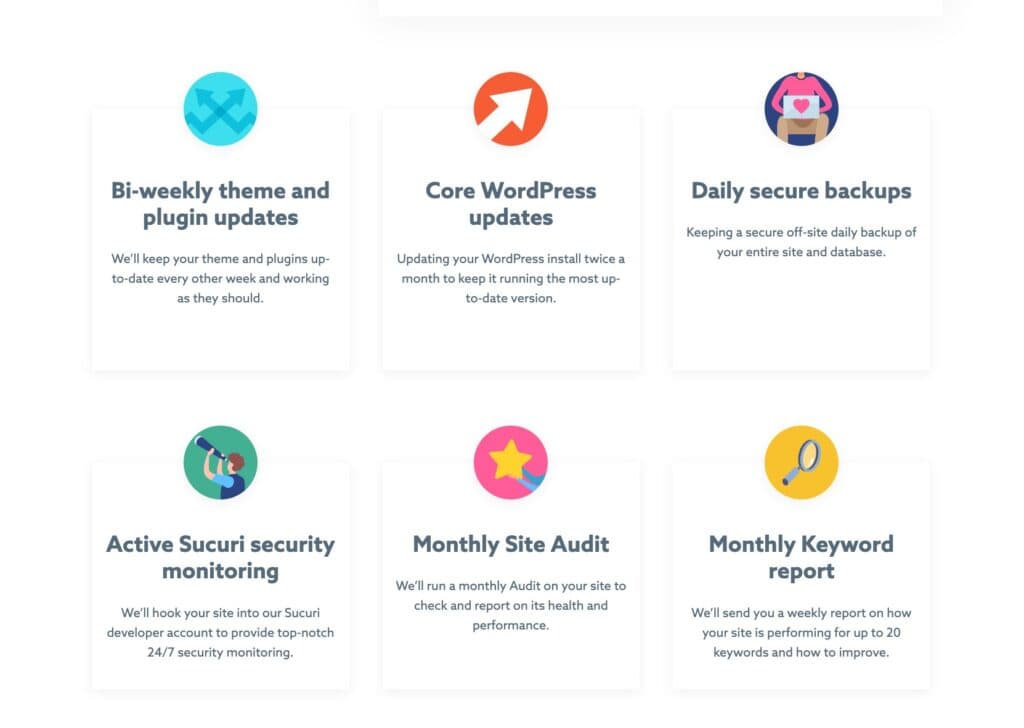 Benefits for the website builder
The website builder knows that the built website will continue to be maintained by him or herself for a pre-agreed fee. A maintenance contract provides regular income and customer retention. Additionally, it provides better customer service and satisfaction, which can result in positive word-of-mouth advertising and more new customers.
Creating a maintenance contract
When choosing a WordPress maintenance contract, it's important to clearly establish the scope, rate, responsibilities, and duration of the contract. This prevents problems from arising later on.
How to create a WordPress Maintenance contract:
Determine the scope of maintenance

It's important to determine which tasks are included in the maintenance. It's recommended to include at least the following: WordPress updates, theme and plugin updates, security audits, automatic backups, and issue or bug resolution.

Agree on a clear rate

Determine the rate for maintenance based on the scope and frequency of maintenance, the size of the website, and the estimated time required to complete the work. Also, include how payments will be made. See below in this article for more information on costs.

Agree on responsibilities

Make clear agreements on who is responsible for which tasks. For example, ensure that the website builder is always the one who performs updates, makes backups, and resolves issues, while the website owner is responsible for content changes to website pages or design changes (or pays separately for those).

Determine the contract duration

By making clear agreements about the duration of the contract, everyone knows what to expect. The contract duration can vary from a few months to a year. Also, agree on automatic renewals of the contract.

Specify expectations, such as response time

Describe the Service Level Agreement (SLA), including the response time for any issues and other relevant matters.

Include an exit clause

Determine an exit clause to be able to terminate the contract at any time in case of issues or if someone changes their mind.
What are realistic rates for a contract?
The rates for a WordPress maintenance contract may vary based on various factors, such as the size of the website, the complexity of the functionalities, the speed of the offered support, and so on. Generally, rates for WordPress maintenance contracts range between 20 euros/dollars (small websites) and 200 euros/dollars (more complex websites) per month.
Price is not the only aspect that matters. A well-maintained website can prevent many problems and provides a good user experience. The quality of maintenance and service is just as important.
Moreover, it is recommended to look at what is included in the contract, such as backups, security audits, monitoring, and technical support. Some providers offer additional services at extra costs, while others have everything included in the contract.
How do I maintain websites as optimally as possible?
As a website builder, it is useful to automate your maintenance processes as much as possible. This ensures the best and most reliable service. Here are some tips:
Reliable hosting: Choose a reliable hosting provider that offers reliable backups and a dashboard with automated WordPress options. SiteGround is our favorite hosting provider and offers all the necessary features.
Install basic plugins: Install a security plugin, such as Wordfence, and a caching plugin, such as WP Fastest Cache, to keep websites fast and secure and prevent potential problems. MainWP is also an ideal plugin for maintaining multiple websites.
Use Cloudflare: Consider using the Cloudflare service as a content delivery network. Cloudflare makes almost every website safer, faster, and more flexible and is optimized for WordPress. It also monitors the status of a website.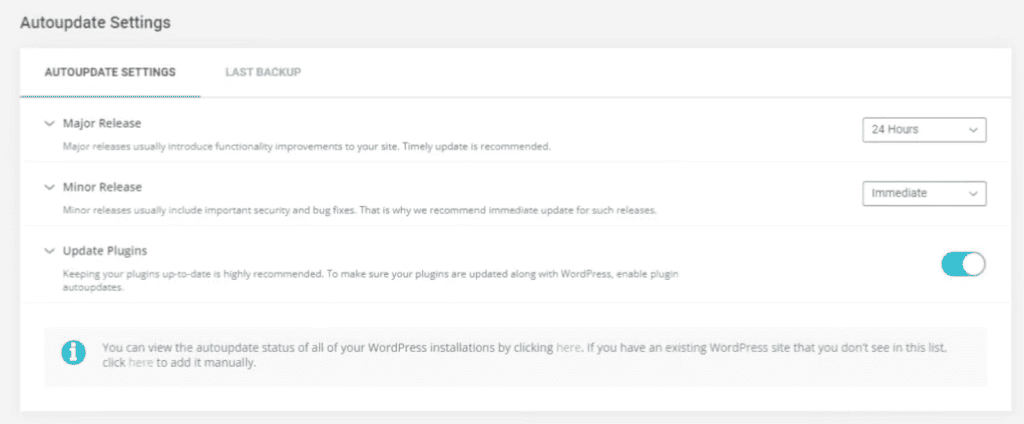 ---
Example of a basic maintenance contract
Below is an example of a basic WordPress maintenance contract. It serves as a framework to use.
This maintenance contract ("the contract") is created on [date] between [name of the client], located at [client's address] ("the client") and [name of the maintenance contract provider], located at [provider's address] ("the provider").
Scope
The provider will perform the following tasks as part of this maintenance contract:
Updates: The provider will perform monthly updates of WordPress, themes, and plugins to ensure that the website remains secure and up-to-date.
Cloud backups: The provider will make daily cloud backups of the website to prevent data loss and restore backups if necessary.
Security: The provider will perform regular security audits to ensure that the website is well-protected against potential threats.
Monitoring: The provider will regularly monitor the website to quickly detect and resolve any issues.
Technical support: The provider will provide technical support in case of any website issues.
Costs
The rate for this maintenance contract is [amount in euros or dollars] per month. Payments are to be made monthly in advance.
Responsibilities
The client will grant access to the website and provide all relevant information necessary to perform the tasks outlined in this contract.
The provider is responsible for performing the tasks outlined in this contract and providing technical support in case of any issues.
For any other website modifications such as text, photos, pages, and styling, an hourly rate of [hourly rate] will be charged.
Contract duration
This contract has a duration of [number of months/years] and will automatically renew after the contract period expires.
Service Level Agreement (SLA)
The provider will respond to requests for technical support or problem resolution within [number of hours/days]. If the provider is unable to respond within the agreed-upon time, the client will be notified of the reason for the delay and a new deadline will be agreed upon.
At the end of each month, the provider will send a report of the work performed.
Exit clause
This contract can be terminated by either party at any time with a notice period of [number of days/weeks]. The termination must be submitted in writing.
Other provisions
This contract includes all agreements between the client and the provider regarding website maintenance and supersedes all prior agreements and arrangements, whether oral or written, between the parties.
This contract is binding on both parties and cannot be amended without the written consent of both parties.
The provider will do everything possible to keep the website secure and fast, but is not responsible for the unique case where unexpected problems arise. Of course, the provider will then do everything possible to resolve the issues.