If you are an active YouTuber and also have your own WordPress website, it is a good idea to integrate the two. By integrating your YouTube channel with your website, you can keep your audience informed of new videos, and vice versa, you can entice them to return to your website for more content.
Integrating your YouTube channel with your website is easier than you think, and there are several methods to do so. In this article, we will discuss how to easily integrate your YouTube channel with your WordPress website.
We will discuss, among other things, how you can almost automatically let your website visitors subscribe to your YouTube channel. For example, by means of a subscribe button, surrounded by motivating content. Another way is to automatically post videos on your blog as soon as they are uploaded to your YouTube channel.
We will cover different plugins that are available for WordPress and show you how to use them to easily integrate your YouTube channel with your website.
1. Display a simple subscribe button
The simplest solution to allow your users to quickly subscribe to your YouTube channel is through a simple subscribe button.

You can place this button anywhere on your website. An obvious place is of course the homepage, but you can also show it in a sidebar or at the bottom of your website.
Through the Google Developers website, you can easily generate a subscribe button. Go to the 'Configure a Button' page on the Google Developers website. Here you can specify the name or ID of your channel and adjust some settings. For example, you can choose between a small or large version, light or dark theme, and show or hide your subscriber count. Then, Google will show a preview and automatically generate a YouTube subscribe button that you can integrate into WordPress.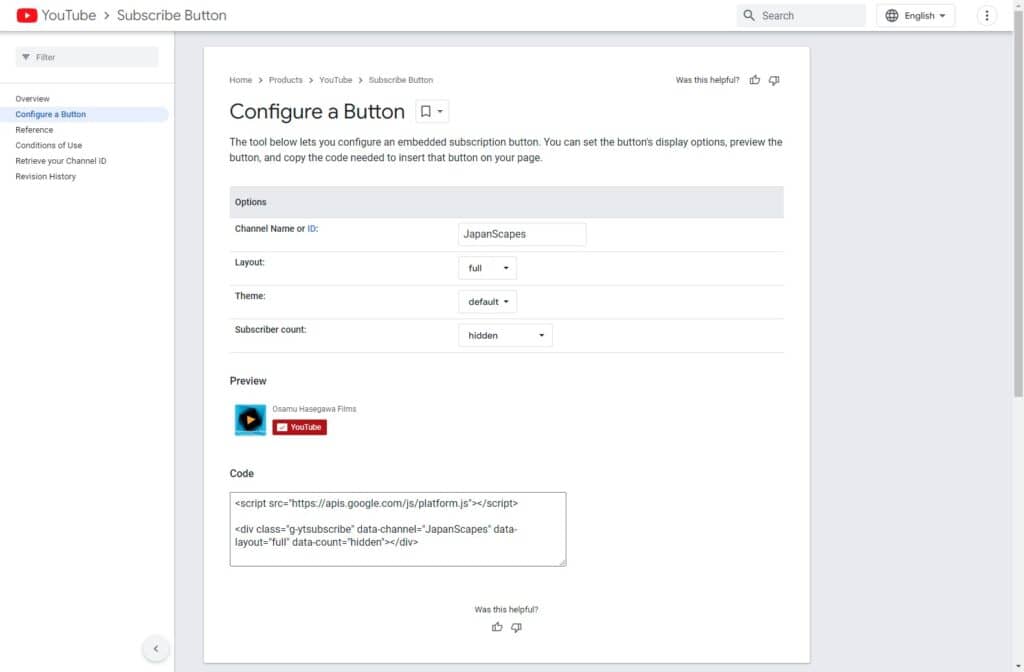 Then, you put this piece of HTML code in any desired location. This way you can create a widget or paste the code directly into a page. After that, users go to your YouTube channel with just one click on the button. They will then get a confirmation message if they are sure they want to subscribe.
2. Optimize and improve your subscribe buttons
The basic integration of a subscribe button is, as the name suggests, very simple. With a more appealing design and smarter positioning on your page, you can convince more visitors to subscribe.

One of the plugins with which you can do this perfectly is called "YouTube Subscribe Card". With this plugin, you create a beautiful, floating subscribe button on your page that slides into view subtly. It also displays a real-time overview of your number of subscribers. You can even display the cover image of your YouTube channel if you want.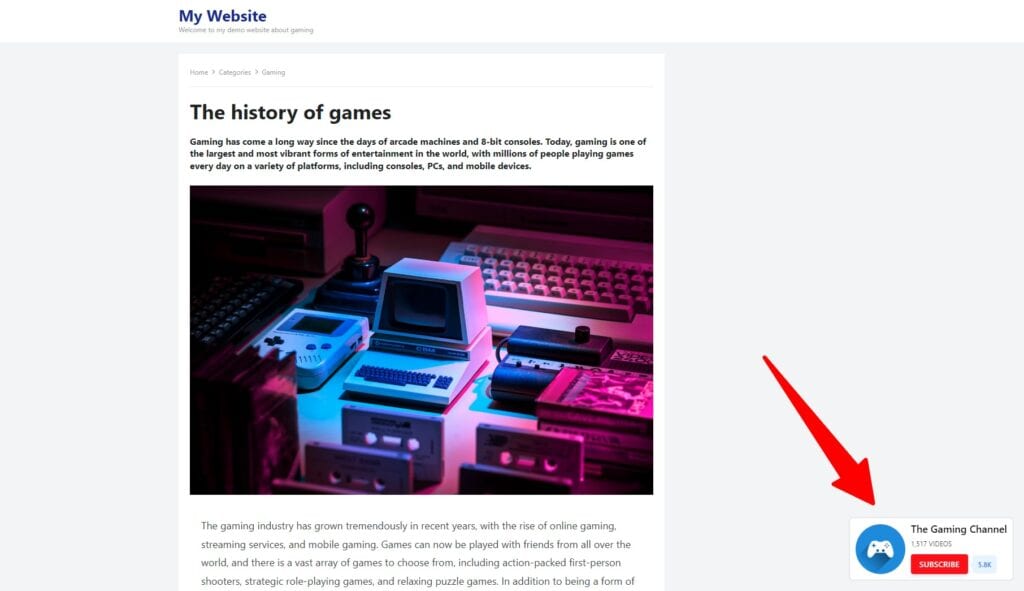 In addition, various customization options are available. You can adjust the size, theme (dark or light), and position.
Download the plugin here via CodeCanyon and install it with a few clicks. With this subscribe button, you automatically get more attention from your website visitors compared to the standard subscribe button.
3. Let visitors automatically subscribe with RafflePress
For an even more effective way to get your visitors to subscribe to your YouTube channel, provide an "intent". This gives visitors a clear reason to subscribe to your channel. As visitors see what they get in return, you automatically increase your chances of new subscribers.
For example, you can organize a contest or competition. You offer, for example, a nice product, or a free ebook or course. As soon as people watch a video on your channel, they have a chance to win that prize. With RafflePress, a paid plugin, you can easily organize a "giveaway" on your WordPress website. The plugin also checks if users have really gone to your channel. If so, they automatically have a chance to win the prize.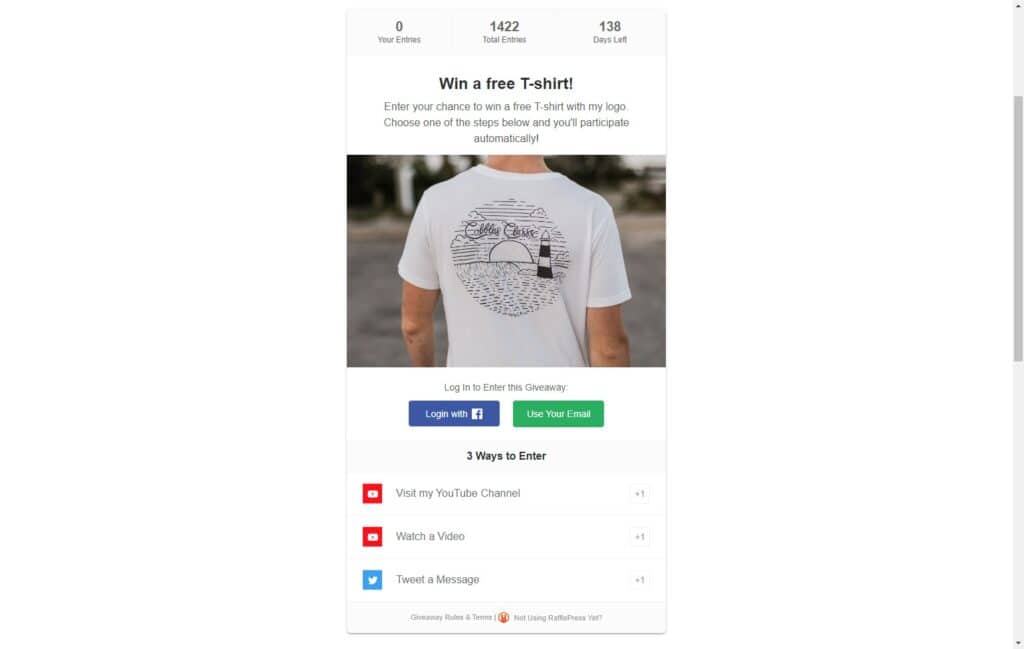 RafflePress guarantees more traffic and subscribers. With this, you can focus attention on your YouTube channel and automatically attract new, loyal subscribers.
Why can't you ask users to subscribe, you may wonder? The following quote is in the YouTube terms and conditions:
"YouTube doesn't allow anything that artificially increases the number of views, likes, comments, or other metric either through the use of automatic systems or by serving up videos to unsuspecting viewers."
Therefore, stick to the options offered by RafflePress and you can be sure that you are safe and making optimal use of what is allowed.
4. Integrate YouTube videos into articles
Integrating videos into articles on your website makes the content more attractive and interactive for your visitors.
About 87% of website owners indicate that adding videos to websites leads to more visitors.
Articles and videos together are a good mix. In your videos, you refer to an article, and in an article, you refer to a video. This synergy leads to a larger reach and more subscribers. An excellent strategy.
Videos also increase the duration of the stay on your website. Google sees that users stay longer on your website, which leads to a higher position in search results. And visually, your website looks more attractive to click on in Google.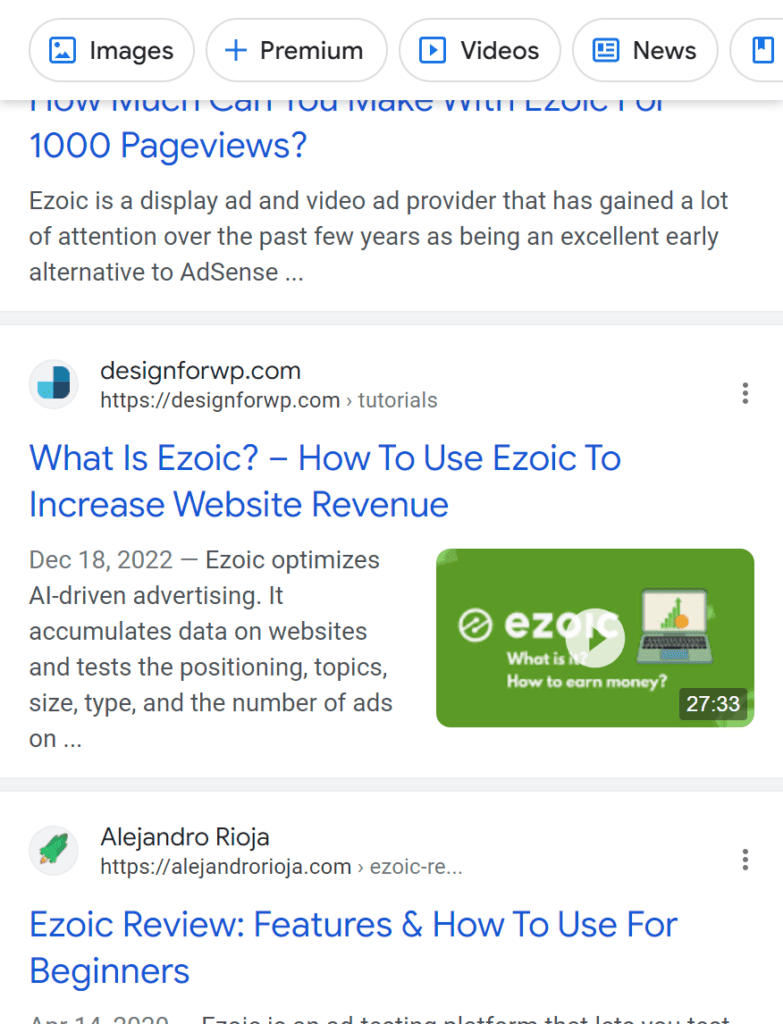 Displaying a YouTube video via WordPress is easy. Copy the URL of a YouTube video and paste it into the WordPress editor. Your video is automatically converted into an embedded video.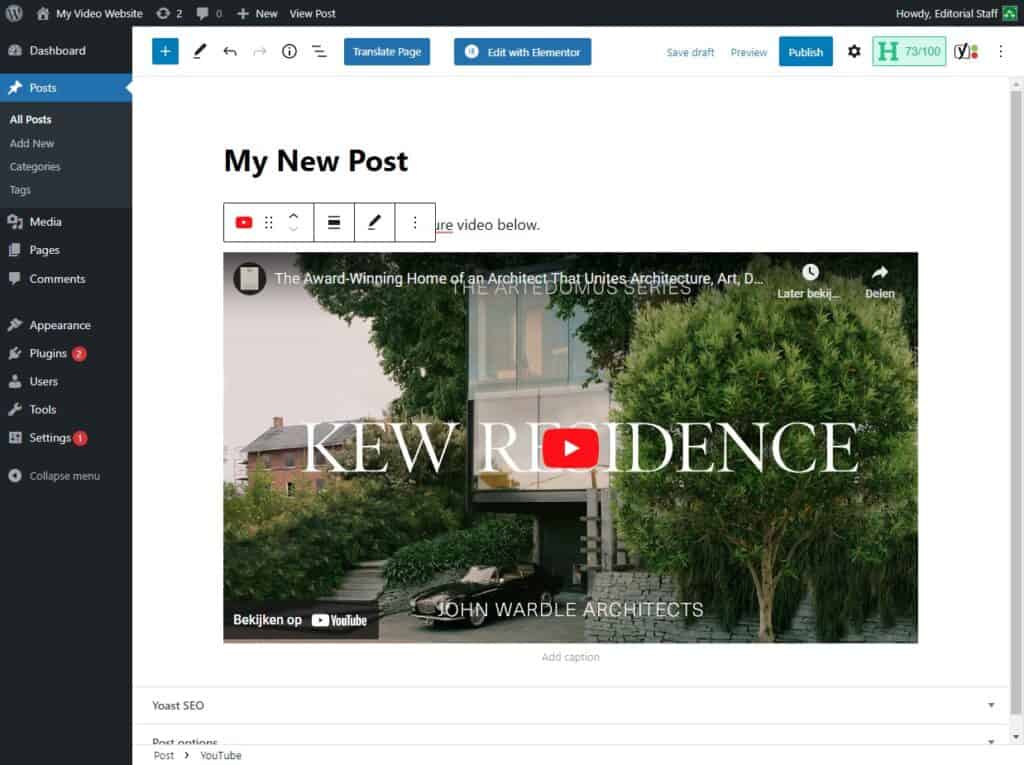 The built-in Gutenberg (Blocks) page builder of WordPress, as well as many other page builders, even have their own built-in YouTube widgets that you can use.
5. Display your latest videos automatically in a gallery
Incorporating a gallery with all of your YouTube videos can help you get more subscribers on your channel. You can display your videos in various ways, such as sliders or in carousels.
By integrating your videos on your website, you can expose them to a larger audience. But it also provides your visitors with an improved user experience. People can easily browse through your videos and subscribe to your channel. And of course, it helps to strengthen your brand.
Smash Balloon
An excellent plugin for this is Smash Balloon. With this, you can automatically load various social media feeds, including YouTube. It displays all of your videos the way you want. There are many different design options. For example, you can choose to show or hide the description, likes, views, and subscribe button.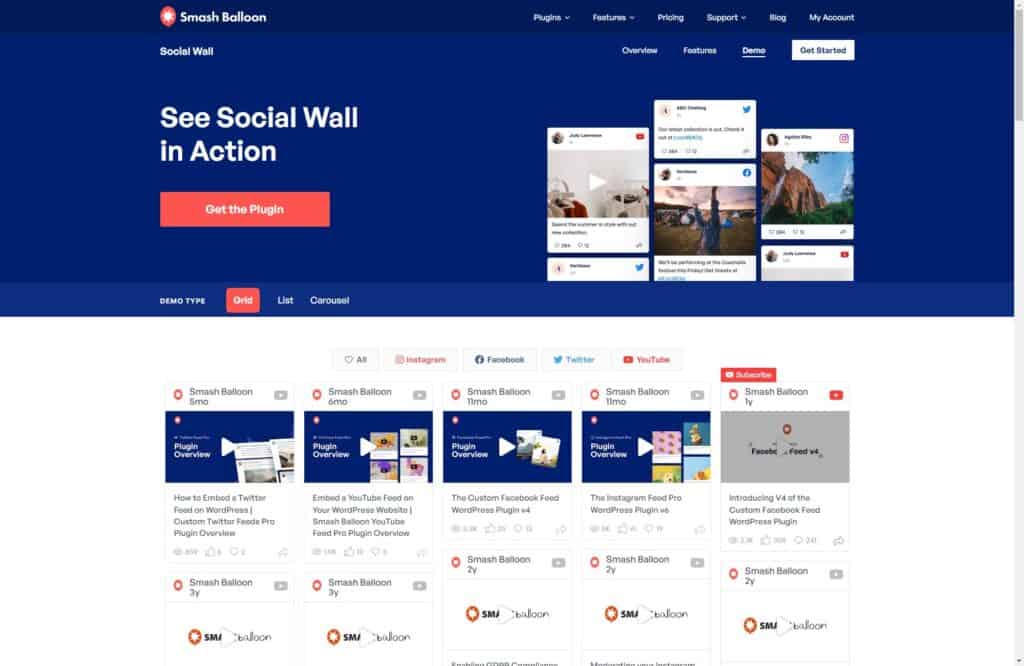 Above each video, you can place a Subscribe button. In addition, it is also easy for visitors to go directly to your YouTube channel.
Once you click on a video, a beautiful popup will then be shown. This also works great on mobile phones.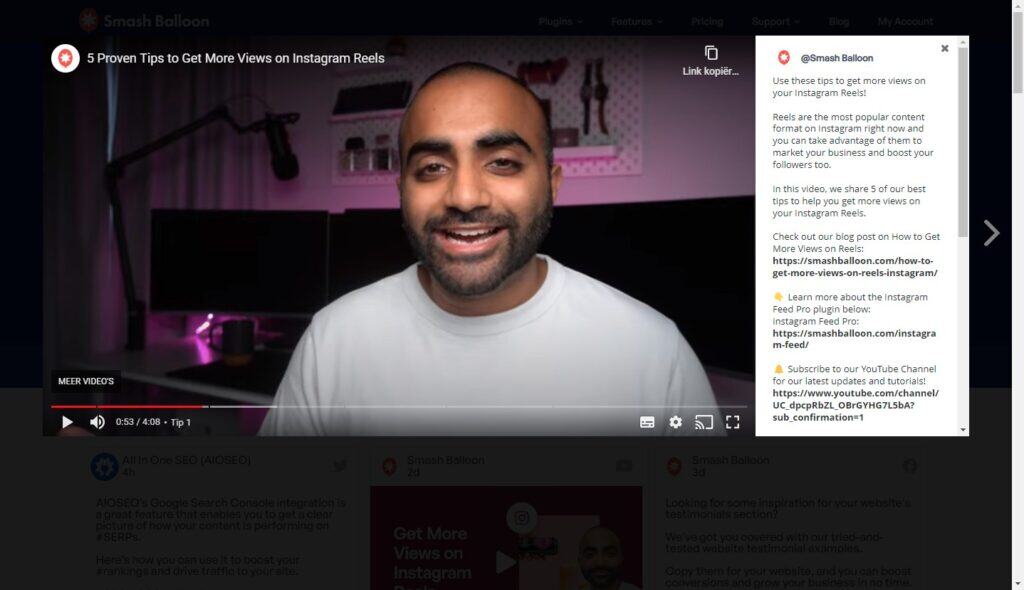 Social Stream for WordPress
An alternative plugin is Social Stream for WordPress (Flow-Flow), a plugin that has already been purchased by tens of thousands of website builders. With this plugin, you can also display YouTube videos in a beautiful way. You can show videos from a specific channel, but also from playlists or even from a specific search.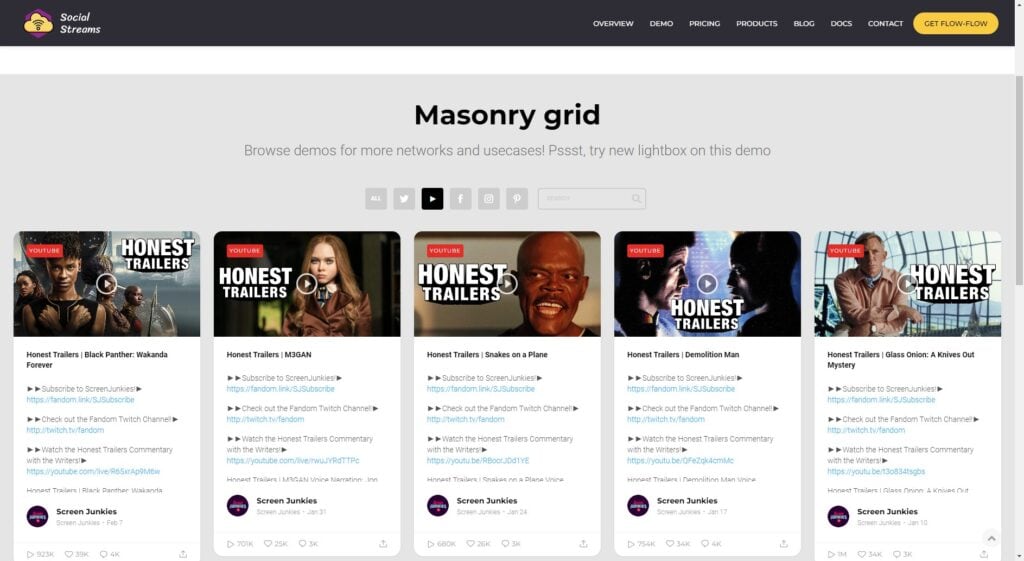 Conclusion
In conclusion, offering the ability to subscribe to your YouTube channel to visitors of your WordPress site is a powerful way to increase your online visibility and expand your audience.
By integrating the right buttons and widgets on your site, you can easily and efficiently encourage visitors to subscribe to your channel. This is a smart strategy for acquiring new subscribers and ensuring that your existing followers are kept informed of your new videos and content.
Integrating YouTube subscriptions into your WordPress site is an effective way to strengthen your online presence.