In this article, we will explore some of the best WordPress themes for photography websites. We'll provide you with an overview of their features and benefits. Whether you're a seasoned photographer or just starting out, these themes will help you build a website that truly reflects your style and talent.
Many of these themes are highly customizable, offering options to personalize your photography website and make it truly your own. From galleries to portfolio pages, sliders, and custom widgets, you can easily display your photos in a way that best suits your style and brand. These themes are selected to help you reach your audience effectively.
We only select themes that meet high standards. They should be fast, customizable, regularly updated, and have great reviews from other customers. Find out more about how we select WordPress themes in the article below.
Find out more: How do we select WordPress themes.
So, if you're looking to build a professional photography website that showcases your work in the best possible light, read on to discover some of the best WordPress themes for photography websites available today.
1. Reflector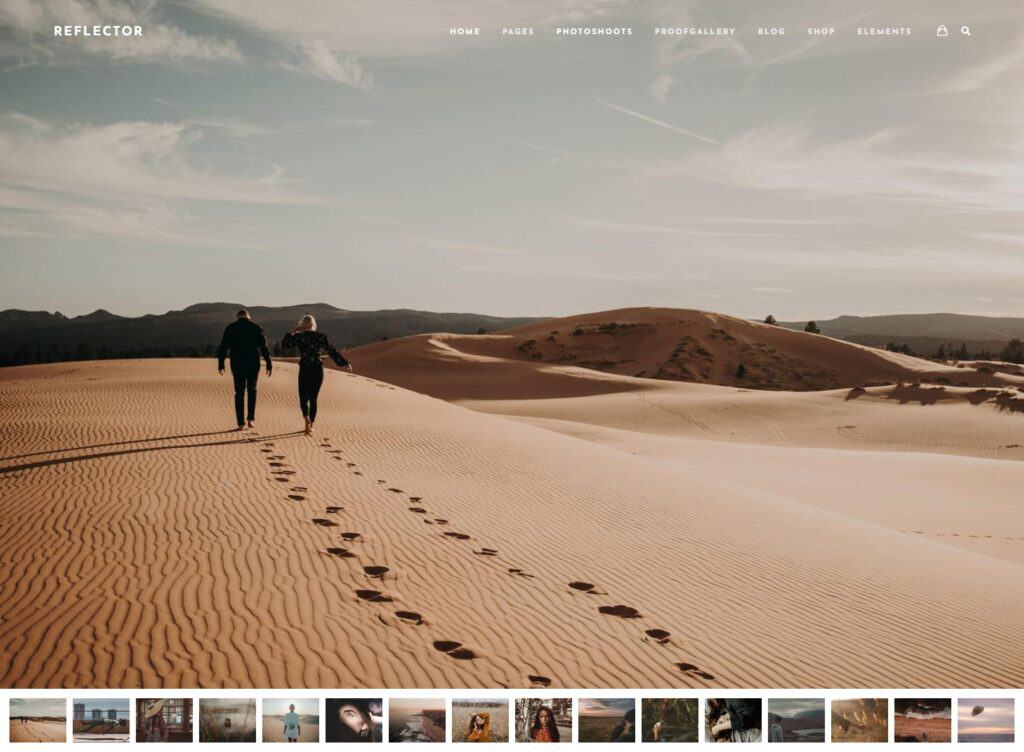 Reflector Photography is a great-looking theme aimed at studios and photographers. With a clean and minimalist design, Reflector offers customizable headers, sliders, and galleries that allow you to display your photos in an eye-catching way.
Some of the great features that Reflector offers are diverse gallery styles and page layouts, multiple header and menu styles, private galleries, and an adaptive image system. The latter detects the user's screen size and creates appropriate re-scaled images.
Reflector is fully compatible with Gutenberg and has WPBakery included as well. With the 25+ included diverse demo layouts you can quickly kick off your new photography website.
Special photography features: galleries, sliders, carousels, lightbox, private galleries with favoriting and downloads, adaptive images system.
2. Novo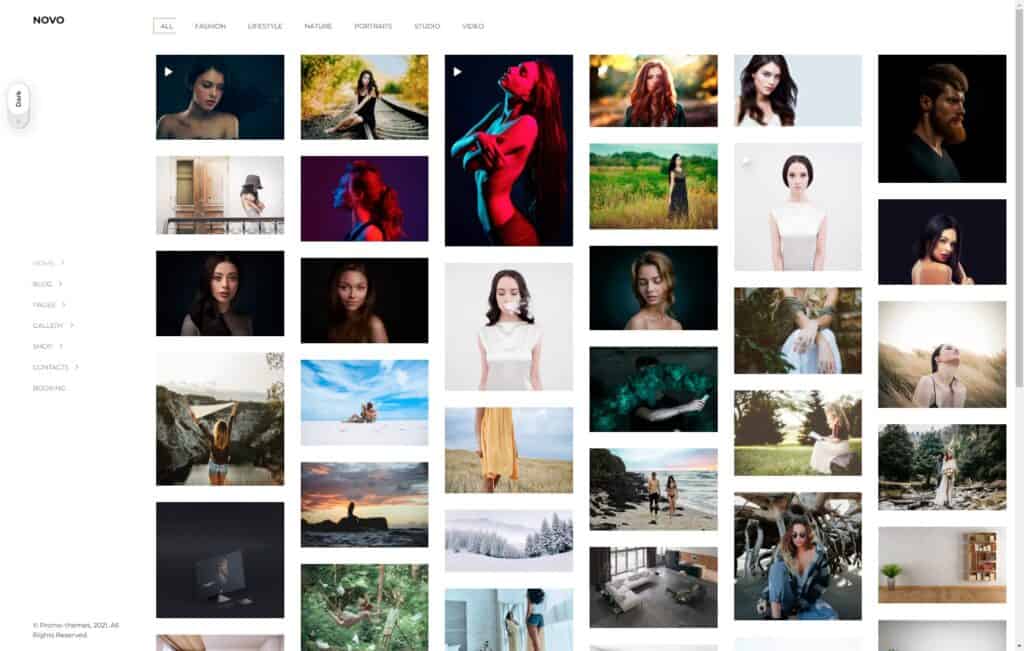 Novo is a WordPress theme designed specifically for photographers, bloggers, and other creatives. With Novo, you can showcase your work in a visually stunning and professional manner.
This theme offers a variety of customization options that allow you to build your website the way you want. It is highly functional as well, with several photography-related features such as multiple gallery styles, password-protected photos, and automatic photo watermarks.
Novo supports the popular Elementor and WPBakery page builders. It has several demo versions ready for you to use, both in dark and light versions. This helps you to get started quickly.
Special photography features: galleries, sliders, lightbox, password-protected photos, watermarks, and image optimization.
3. Photography WordPress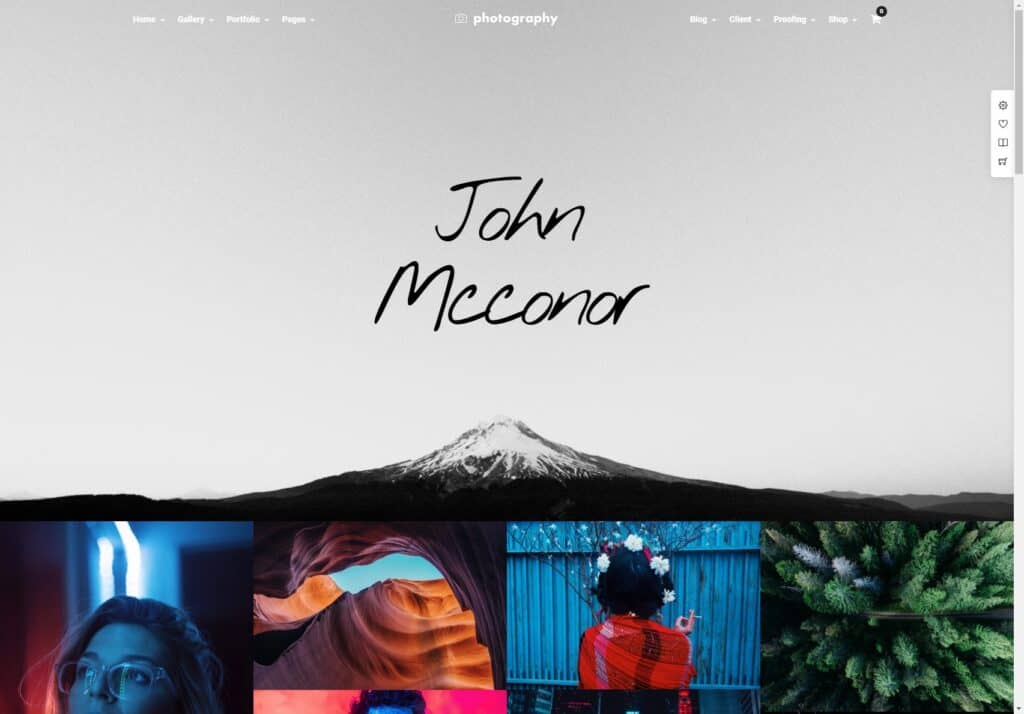 Photography WordPress is a highly rated and popular WordPress theme specifically designed for photographers and photography websites.
The theme features a variety of customization options. You can choose from a range of pre-designed templates and layouts (both in light and dark versions). But the best thing is that this theme includes a wide range of widgets and features specifically designed for photography websites, such as photo albums, lightbox integration, and password-protected galleries.
The theme gets high ratings from users, with an average of 4.6 stars out of 5, attesting to its quality and effectiveness.
The one important thing to notice is that this theme comes with its own page builder. It doesn't support popular page builders such as Elementor or WPBakery. This is very unfortunate and we hope the builders add support soon. If this is not a big deal to you, Photography WordPress is an excellent theme for a photography website.
Special photography features: lazy loading, advanced lightbox integrations, photo albums, galleries, infinite scroll, social media, and password-protected galleries.
4. Salient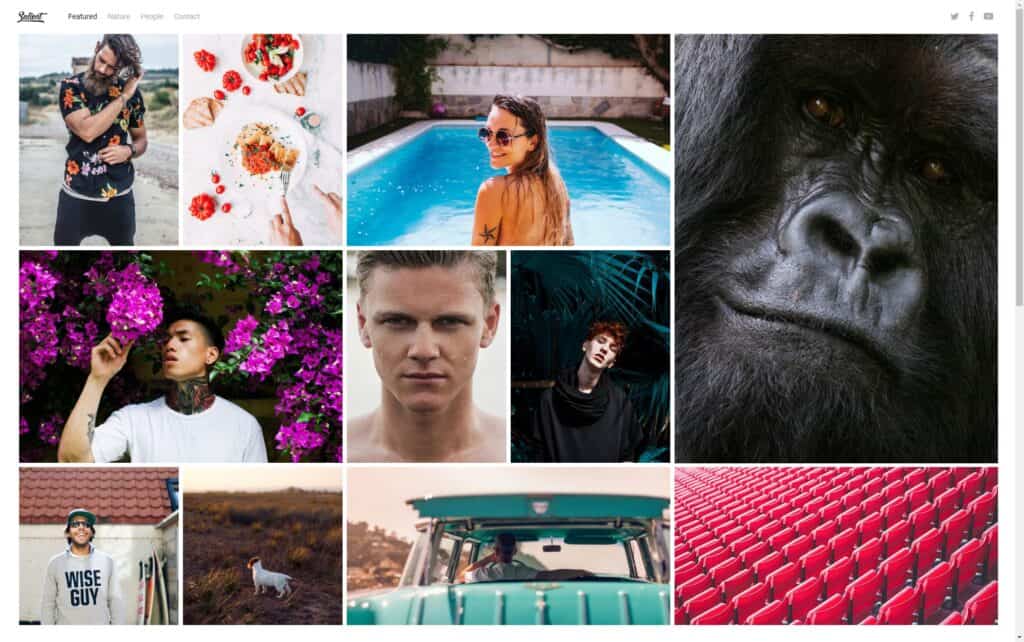 Salient is a big multipurpose WordPress theme. It is a great choice if you are looking for a photography website with lots of extra features that are not immediately related to photography. Usually, with large multipurpose themes, support for galleries and lightbox are limited. Fortunately, Salient is a positive exception.
This theme is highly functional, with a variety of features that make it easy to use, including multiple gallery, slider, and carousel styles, built-in support for video and audio content, and a wide range of customization options.
Salient is a great choice if you are looking for basic photography features, such as galleries and sliders, but with an enormous amount of extra options. This is especially useful if you are building a website that goes much further than a digital gallery. Think of a dynamic portfolio website with extensive case studies or a webshop.
Special photography features: galleries, sliders, carousels, lightbox.
5. Blacksilver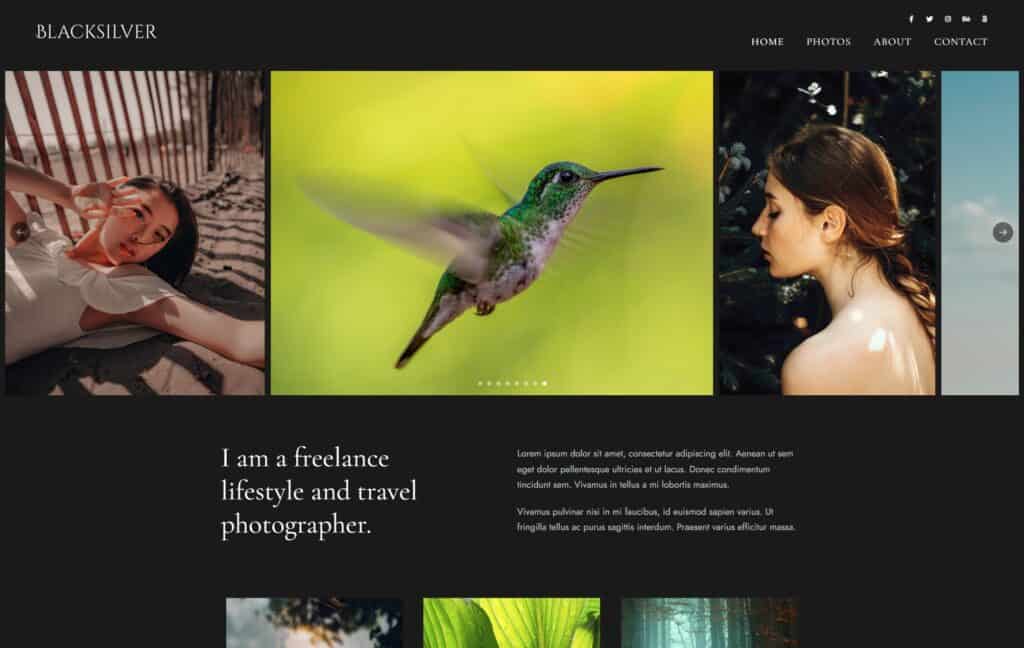 Blacksilver is a great and versatile WordPress theme that is well-suited to a variety of photography websites. Its many customizable features, as well as its clean and modern setup, provide a professional and polished look for your website. This theme is a great choice for photographers looking to publish a portfolio with case studies as well.
The theme includes a full-screen slideshow, portfolio templates, and customizable galleries, and even has integrations with popular plugins like WooCommerce. Some other great features are customizable menus, a user-friendly filtering system, lazy loading, password-protected proofing, and client management.
Blacksilver is optimized for both the Gutenberg and Elementor page builders. And with the included demo websites, both in light and dark layouts, you can set up a great website with ease.
Special photography features: galleries, sliders, (fullscreen) slideshows, customizable lightbox, easy filtering, lazy loading, password protection and proofing, and client management.