Before we go through our selection of the best WordPress themes for a personal blog, we'll share how we select our favourite themes.
Our article 'How To Choose the Right WordPress Theme – 10 Important Things' highlights 10 important aspects of good themes. Whenever we select themes across Design for WP, we always take these 10 things into consideration.
This means that the selected personal blog themes below are all highly rated, receive regular updates, and have great features included.
We've also made sure that these themes are specifically optimized for personal blogs. After all, you want your personal blog to stand out, showing off your articles in style and with efficiency. We also made sure these themes are easy to manage and maintain.
1. Ruki
⭐ Super theme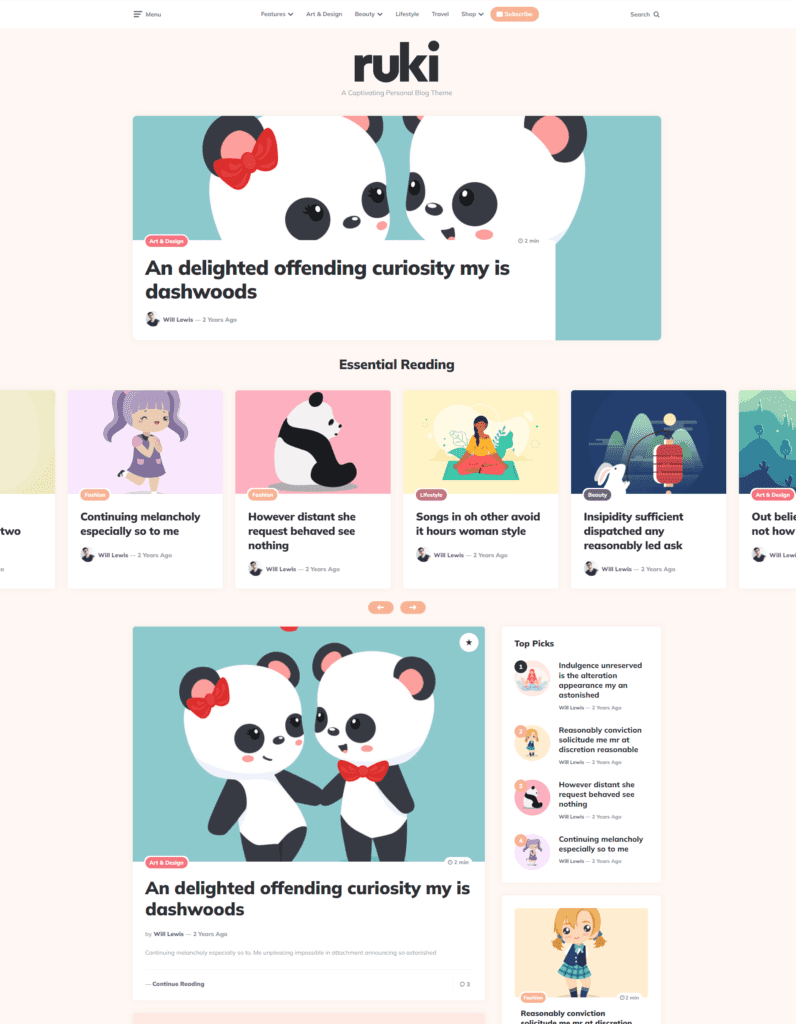 Ruki is a beautiful theme aimed at personal blogs. It is optimized for Gutenberg and a perfect choice if you are looking for a gorgeous theme with a different style than most other blogs. Most demo sites provided by Ruki are built around illustrations, but there is one example with photos as well.
Ruki has some great things built-in. It isn't bloated with unnecessary features (which makes the theme very fast!), but still includes some nice integrations with MailChimp, Instagram, and Contact Form 7. It's even compatible with WooCommerce and WPML.
Ruki's highlights are:
It's great looking!
Has multiple customizable settings and post styles.
It's lightweight and very fast.
Runs on the Gutenberg page builder.
Integrates with Instagram, MailChimp, WooCommerce, WPML, and more.
2. Bjorn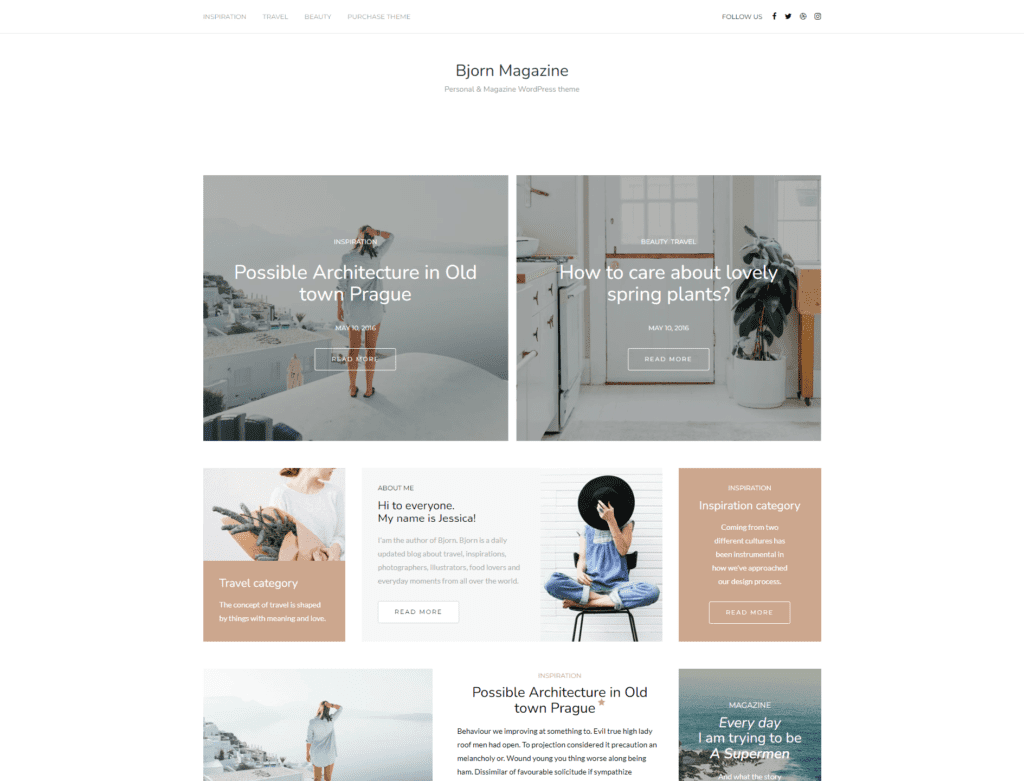 Bjorn is a clean and stylish WordPress theme for personal blogs. It feels chic and elegant, and is a perfect fit for anyone who is looking for a minimal design with a big focus on blogging and photos.
Bjorn has lots of configurable options. There are different header styles to choose from, as well as multiple post layouts, sliders, and more. It also has nice built-in integrations.
A couple of highlights:
Lots of customizations available.
Some great built-in features, such as Revolution Slider, MailChimp, Instagram, and Lightbox.
Compatible with WPML and WooCommerce.
Optimized for speed and mobile devices.
3. Contentberg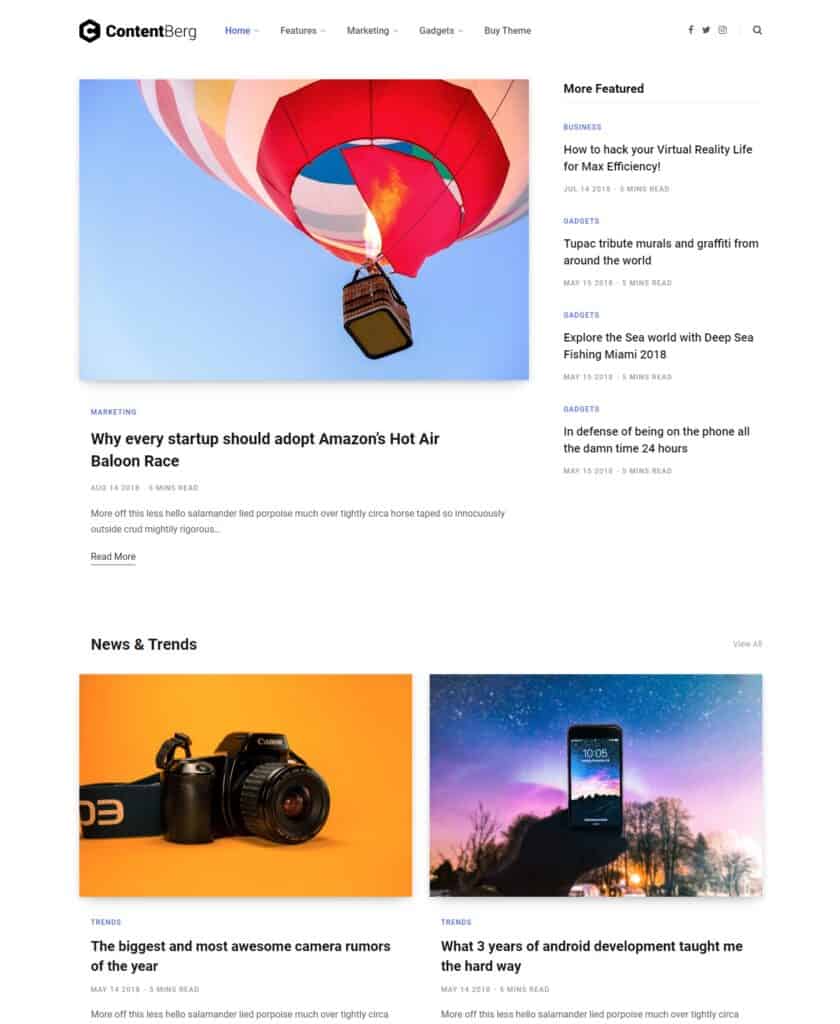 Contentberg is a theme for personal blogs with a big focus on copy and on photography. It doesn't offer much more options than that. Don't expect many out-of-the-box integrations with Contentberg, which we personally really like because it keeps your website light and focused. It's a great choice for anyone looking for a simple blog theme focused just around the basics of blogging.
A few highlights:
A minimalistic and fast theme.
Several header-, footer-, and post layouts to choose from.
Integrations with MailChimp and Social Media sharing.
Compatible with WPML and WooCommerce.
WPBakery Page builder included.
4. Johannes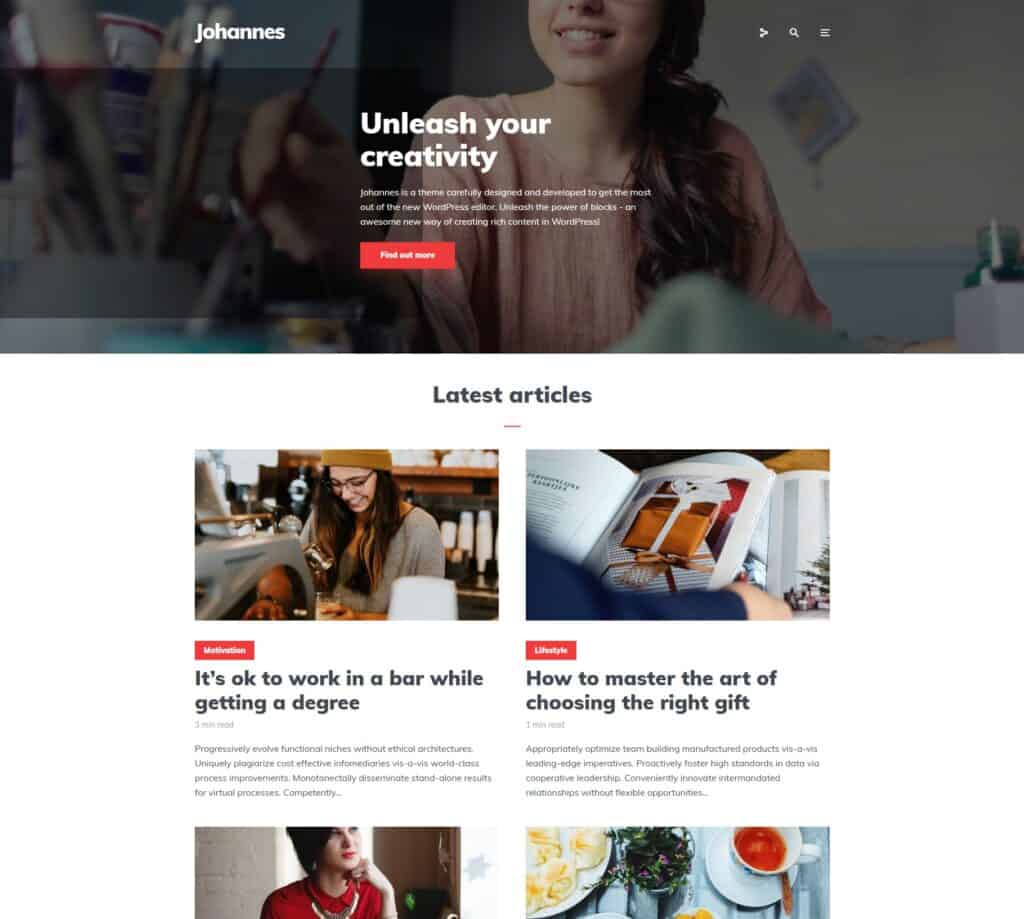 Johannes is a modern personal blog theme. It is fully optimized for Gutenberg and has a couple of great pre-built layouts to choose from. There are quite a lot of customizable options as well. Compared to the previously mentioned themes, Johannes has slightly more built-in features, but not too many either.
These are some of Johannes' highlights:
A modern-looking theme built on Gutenberg.
Compatible with WooCommerce, WPForms, MailChimp, and more.
Fast loading times.
Several configurable options.
A few blog-related features, such as 'Reading time' and Disqus.
5. Authentic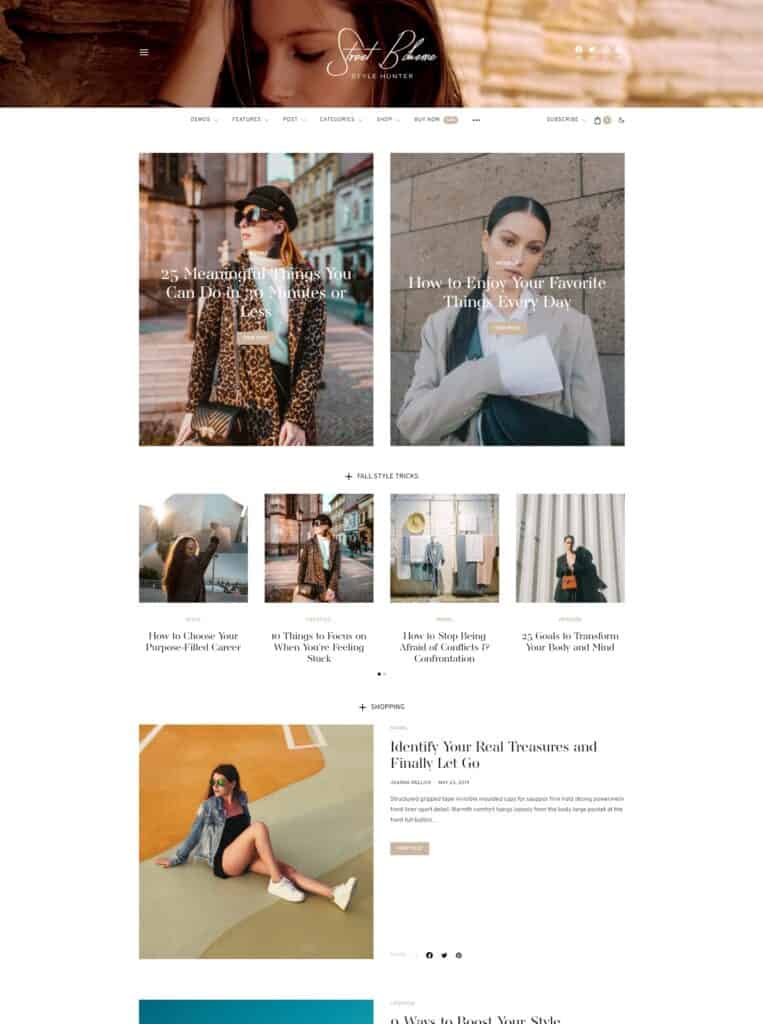 Authentic is a very extensive, great-looking theme – perfect for personal blogs. It's a recommendation for bloggers who want to get started quickly, but for perfectionists with specific wishes as well. This theme comes with tons of integrations, pre-built demos, and customizations.
A few highlights:
Many pre-built demos so you can start a blog with a design of your own choice.
Lots of blog-related features, such as 'Reading time', reviews, galleries, and post styles.
Supports popups, video backgrounds, mega menus, and more.
Compatible with WPML and WooCommerce.
Lots of configurable options.
One thing to mention here is that Authentic is only optimized for Gutenberg and its own page builder, called Canvas.