Searching for the best themes for your website can be quite challenging. There is a wide selection of themes to choose from and you have no idea where to start. What is important and what isn't?
Maybe you've already looked at Themeforest, Themify, or TemplateMonster – a few examples of all the great big marketplaces out there that offer WordPress themes. And then there is also a wide selection of free themes available. On many of these marketplaces, developers are able to freely offer their own templates. This gives you a lot of options, but there are big differences in quality.
Themes can differ greatly in terms of flexibility, speed, security, and compatibility. Based on the price of a theme, you can often roughly estimate how good they are, but there are a couple of factors that are important to keep an eye on. In this guide, we will give you a few tips to choose a great theme out of all the available options out there.
If you use these tips, you will probably not regret your choice of a theme, and you will greatly increase the chances of a successful website. A good theme is essential for success.
1. Reviews
If you buy a theme from an open marketplace, like Themeforest, you will often see reviews from other users. This is one of the first reliable indicators of a good and bad theme.
We recommend you to not choose any theme with a low rating, for example, less than 4 out of 5 stars. There is a reason a theme would get a low rating, for instance, because it doesn't work well or malfunctions.
Therefore, choose a theme with lots of good reviews to set yourself up for success.
Besides that, we also recommend buying a theme that has a lot of reviews. If a theme is new and, for example, only has just a few reviews, you still don't know how good it is and whether it will continue to work reliably in the long term.
The topic of reliability for the long term brings us to the next point: updates.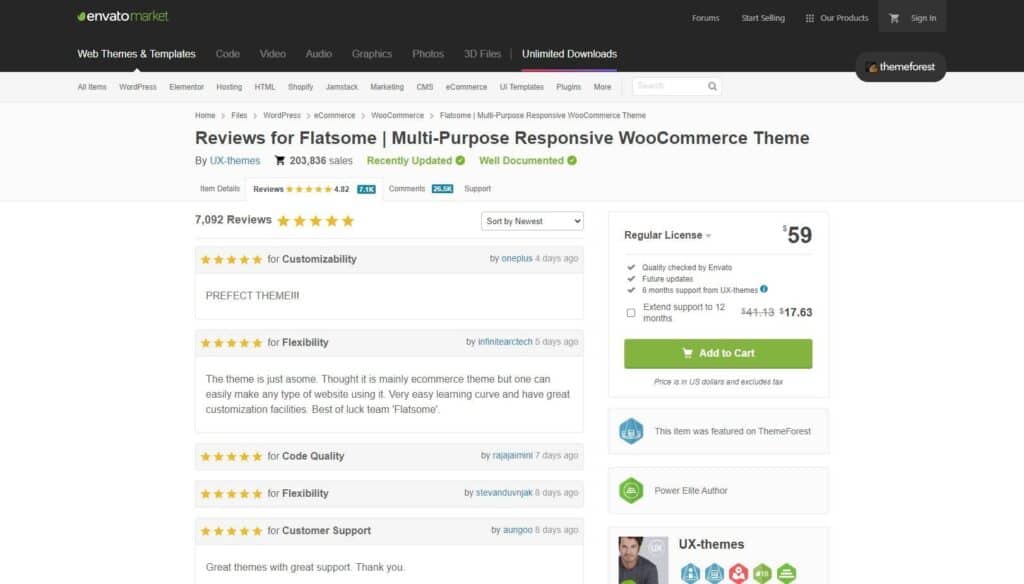 2. Updates
It is very important that a theme continuously receives updates from its developers. WordPress and other popular plugins are constantly changing and release updates every now and then to improve security or add new functionalities.
It could be that WordPress releases an update at a certain point that requires themes to release an update as well to continue working together correctly. You want the developers of your theme to bring out that update as fast as possible. Next to that, it is also essential that your theme itself keeps receiving updates on security and bug fixing.
Therefore, choose a theme that releases updates regularly. You can often see the date of the latest update on the detail page of a theme.
We also recommend choosing themes that are slightly older, for example, older than one year. Theme developers often release updates only for their most popular and profitable themes. If you buy a new theme, you are not sure if it will be supported in the long term.
If you choose an established theme, with high reviews, that has received updates for quite some time, you probably won't have any problems in the future, which is exactly what you want!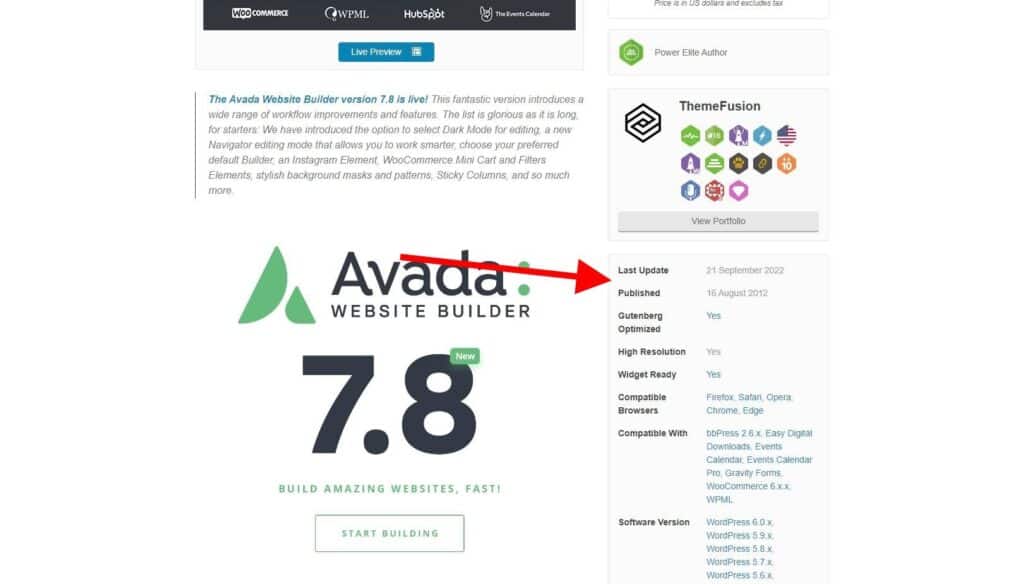 3. Design
Your theme largely determines how your website will look like. It is therefore important to choose a theme that makes you happy when you look at it.
A theme can often be customized in multiple ways. You can change the font, colors, and sometimes even the complete look and feel of your menu. But the closer a theme looks the way you want already, the better it is. Don't pay too much attention to the specific colors and fonts, but especially to the overall feeling you get with a theme.
Something that ís important to pay particular attention to is the mobile version of a theme. Unfortunately, there are still many website builders who primarily build for desktop – and mobile second.
Therefore, make sure to always test a theme on your mobile phone before purchasing it. Often you can find a demo version that you can easily open on your phone. Check if all pages work correctly on your phone and if all elements are correctly arranged and scaled. It is an indicator the theme performs well on mobile phones.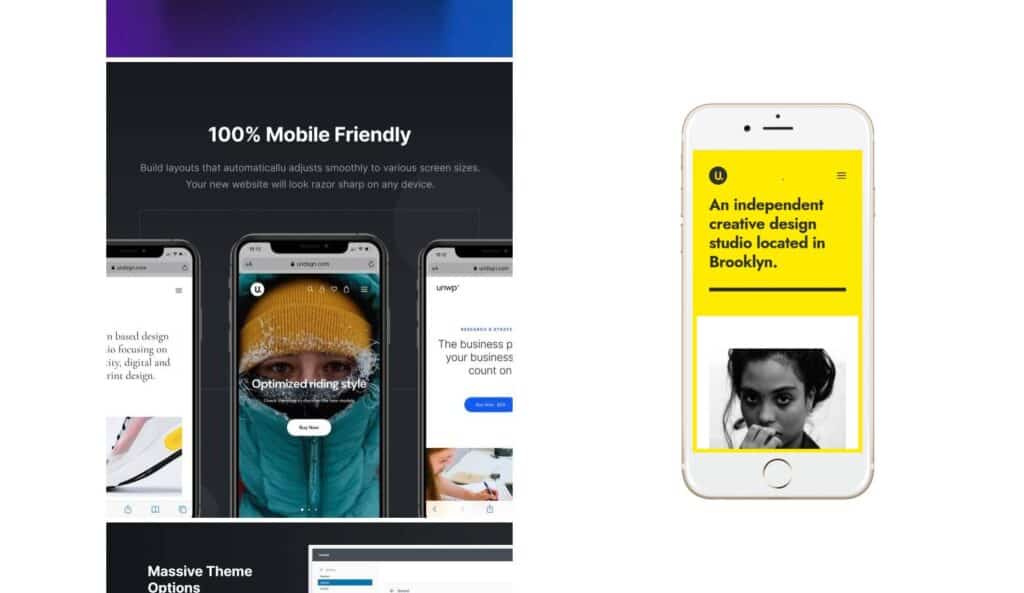 4. Customization
As mentioned in the previous point, themes can often be customized in multiple ways. Think of:
Fonts
Colors
Style of the header and menu
Width of the page
White space
And more
The more and easier you can customize a theme, the easier it is to build a website exactly how you want it to be. The more specific your wishes are, the more customizations a theme should offer.
Carefully read the description of a theme before purchasing. Look for anything around theme options or 'customization'.
Especially free themes often lack these customizations. You are limited to a few options that your theme offers, and if you want more changes it gets a lot more complicated. Paid themes are often more flexible, but also there you will see major differences between them.
A handy trick is to check out the various demos of a theme: an option that most themes offer before purchasing. The more diverse the demos are, the more flexible and customizable the theme presumably is.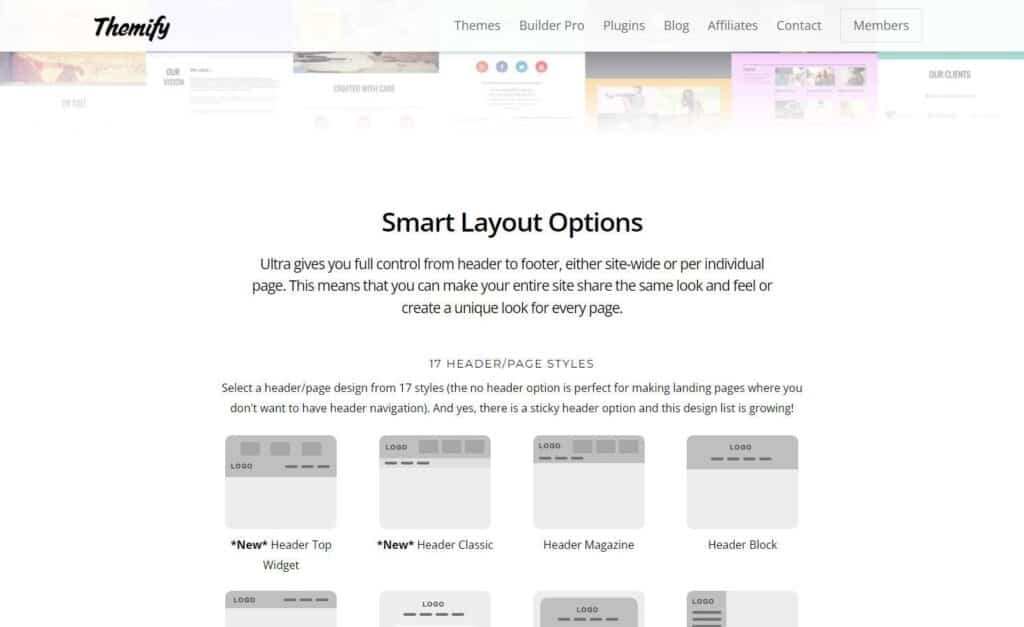 5. Pre-built pages
Many themes offer the option to install pre-built pages. This allows you to immediately start building your website with a great layout after purchasing.
In the demo version of a theme, you can often already see which pages are pre-built.
If you can already find a pre-built page that stands out for you, that's ideal and a good reason to consider a theme. That way, you don't have to design everything yourself from scratch anymore; instead, you start with a great foundation.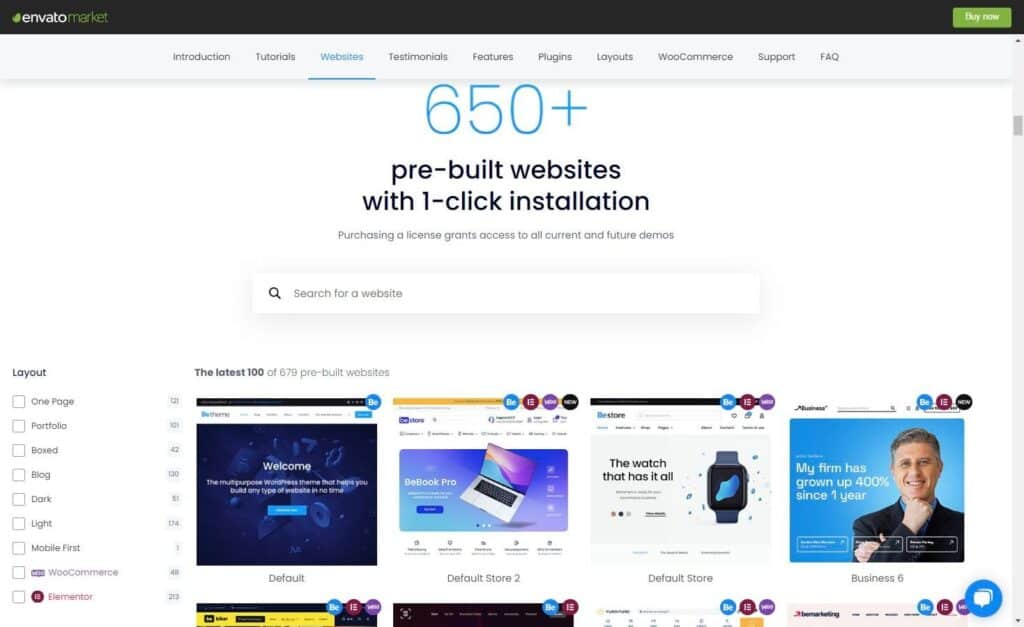 6. Page builder
A page builder is, as the name already suggests, a feature in WordPress that allows you to build up pages. With a page builder, you have an easy way to create a page structure and add text, images, and other elements.
By default, WordPress has its own built-in page builder included, called Gutenberg. This is an excellent page builder for beginners and has some great elements included. But if you are looking for more advanced abilities, such as sliders or great-looking icons, you might have to opt for a more advanced page builder.
The most well-known page builders are Elementor and WPBakery. Throughout the years, Elementor in particular has become an almost indispensable page builder. If you are new to WordPress, you have probably never heard of it before. It is hard to say whether it is a must-have for your theme to support these page builders. It depends on the specific wishes you have with your website: the more specific your wishes, the more important the page builder.
Therefore, pay close attention to which page builders are in particular supported when purchasing your theme. Choose a theme that supports your favorite page builder, or look for a theme that has a premium page builder included.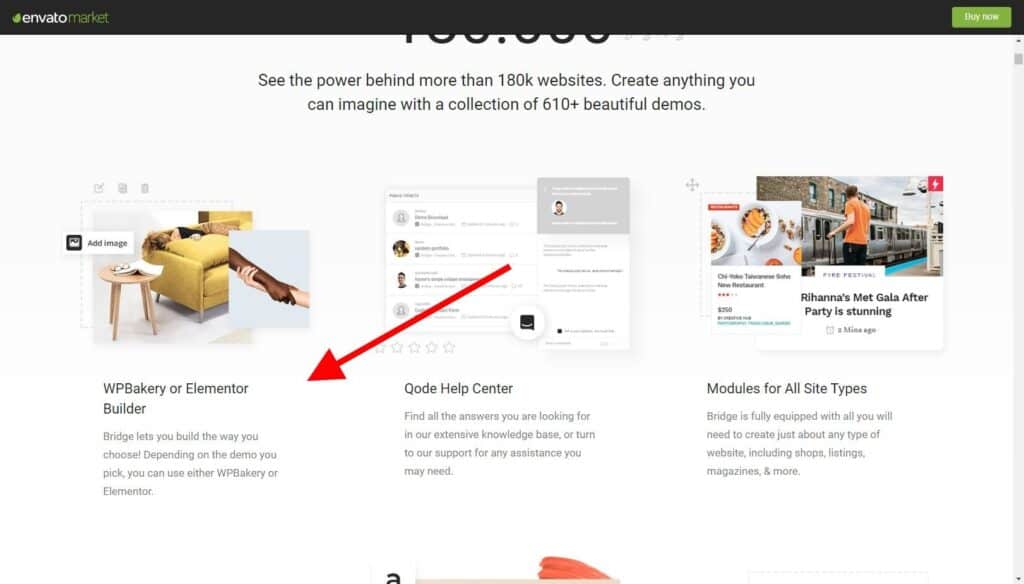 7. Built-in functionality
Especially paid themes often have a lot of functionality built into the theme.
Some functionality is very specific. For example, if you would find a theme aimed at sports websites, it could be that it has functionality around match scores, results, and fixtures included.
Other functionality is broader. Think about a built-in form builder, a photo gallery, or a popup manager.
Before you buy a theme, think about the functionality you want to have on your website. You can always add these through plugins, but it is even easier if your theme supports this feature by default.
For that reason, it can be useful to find a theme aimed at your specific industry. For example, if you want to build a website for a sports club or a hotel, you could search for a theme that focuses specifically on those industries.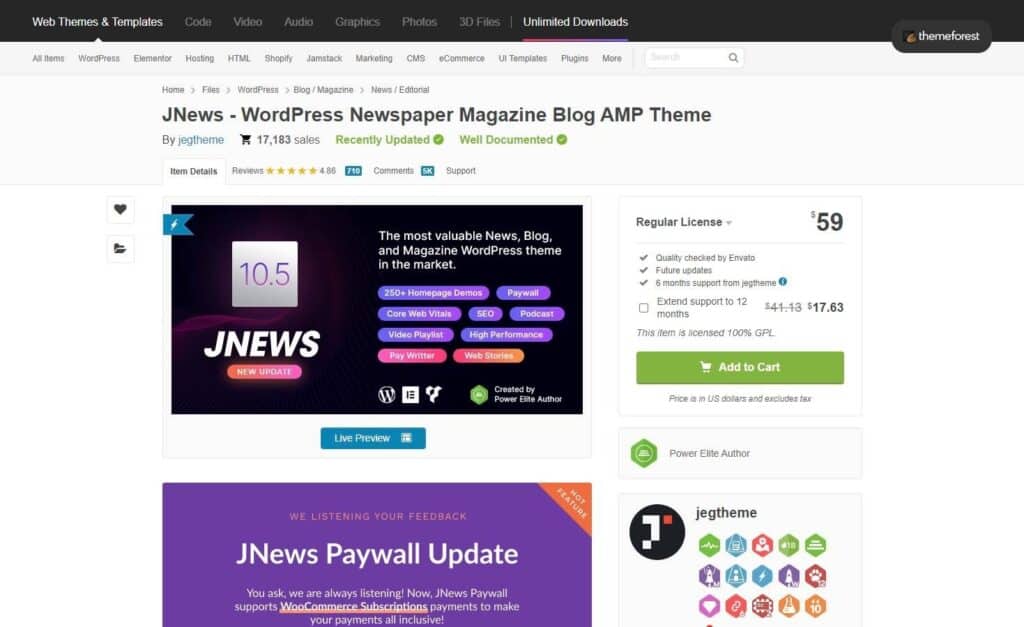 8. Support for external plugins
WordPress is quite minimalistic at its core. Luckily, there are tons of plugins to add features to your website. Some of those are essential in some circumstances. Think of:
WooCommerce for webshops
WPML for multi-language websites
Events Calendar for events and sign-ups
These plugins are not small; they instantly add many new things to your website.
If you are considering setting up a web shop or translating your website into multiple languages, it is useful if your theme already supports these types of specific plugins.
This isn't just to make sure everything keeps working properly, but also to make sure that the design looks good. For example, a WooCommerce-compatible theme has already a design built in that ensures a sleek design for a shopping cart or checkout page.
So, do you already have specific big external plugins in mind (in particular WooCommerce, WPML, or event management)? Choose a theme with built-in support for those.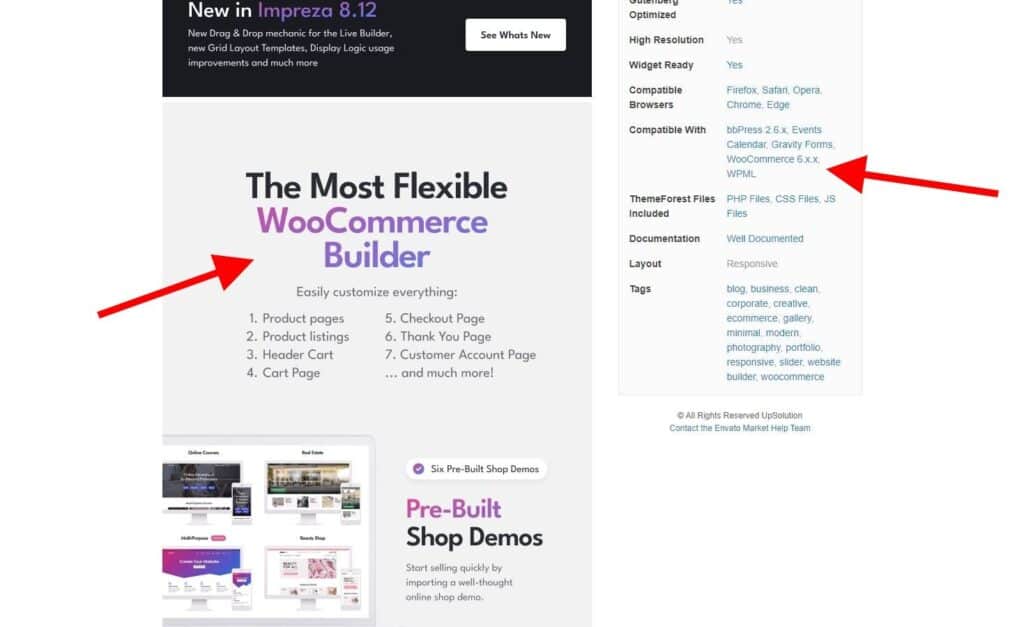 9. Speed
Some themes have a lot of functionality built into them. This could mean that a theme has to load a lot of functions. There is a big difference in how themes do this. The way features are loaded and the way code is used for this in the background has a lot of effect on the speed of your website.
And speed is essential. Not only do users leave your website when it's slow, but also your position in the Google rankings is affected by the speed of your website.
It is very important that your theme is fast. For this, look at two things:
Check if there is anything mentioned about speed or performance in the description of your theme. It is important that the developers of the theme have paid specific attention to this matter.
Visit the theme demos and experience yourself if they load fast (within seconds). If not, don't choose the theme. Although a slow demo could also be related to the server, it's not worth the risk.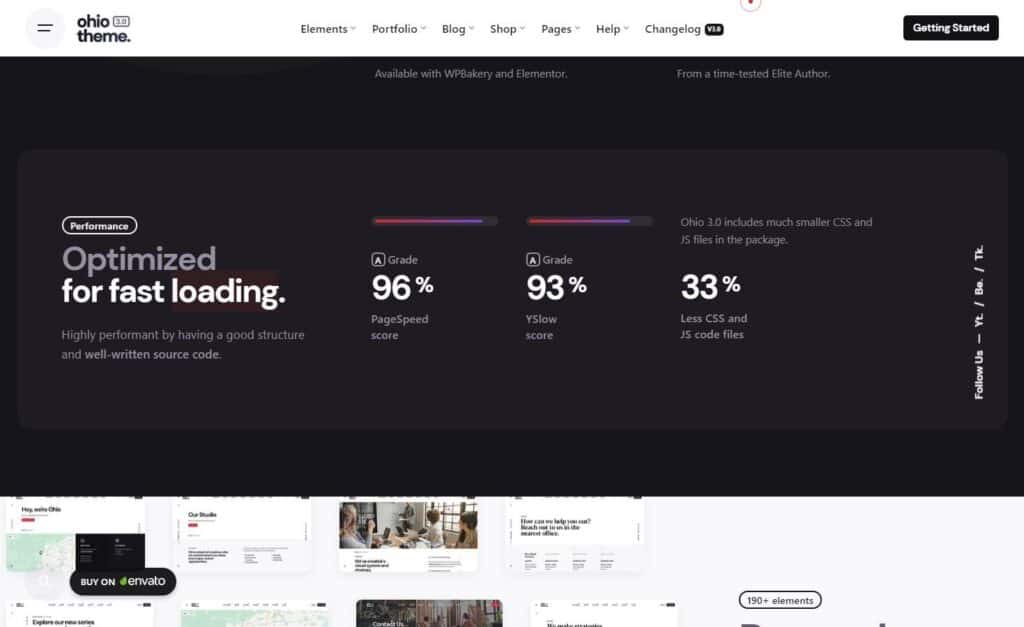 10. Support and documentation
Finally, the support that is being offered by the theme developer is important. Developers of free themes rarely offer any support, but with paid themes, this is often included.
Many theme developers have their own support system, for example on their website. Look into the conditions that are set to receive any support and decide for yourself how important support is to you and how much you expect to use it.
If support is barely mentioned, then you probably also won't get it.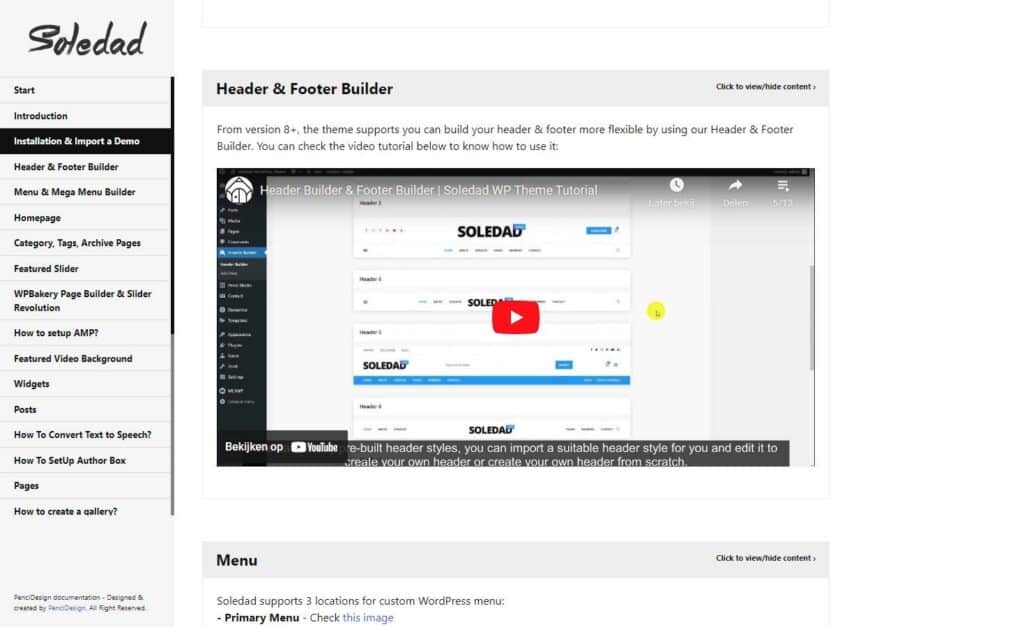 Conclusion
The ten things above will help you to select themes that will make your website a success.
It's a good idea to take your time and browse through the available options to find the right theme for your website.
Hopefully, this guide is able to help you out a little bit. Feel free to leave your own tips or any questions in the comments below.