Before we dive right into the best travel blog themes, let's take a look at how we select great themes. A couple of factors are important.
High reviews
First of all, a theme needs to have high reviews from other users. There are lots of themes available out there that look great and beautiful. But for the future success of your website, it is important to choose a theme that is rated well. It often happens that a website uses a certain theme that looks beautiful at first view, but then it appears to be difficult to style or results in error messages when used in combination with other popular plugins.
By selecting themes with high reviews, we increase our chances of a successful future for your travel blog.
Updates and performance
If a theme is actively updated by its creators, you can be sure your website stays fast and secure. For example, if WordPress gets a new update you're sure the theme stays reliable.
Functionality
It's not that more functionality is always better, but some functionality is just good to have in a theme. Think about translation options or SEO optimization so your website performs better in search engines.
Some themes also have functionality that is specifically useful for travel blogs. Think about a photo gallery so you can show all your travel photos, or social media sliders so you're able to showcase your Instagram feed.
Page Builder
A page builder is ideal to build up your website in a user-friendly way. Elementor and WPBakery are our favorites, so we almost always choose templates that support those. If they don't, we will explicitly mention that.
Design
To be frank, a beautiful design is not the most important for us. Form follows function, and usually, the final design of your website is mostly dependent on the photos and graphical elements you choose anyway. But some things, like a responsive design for mobile phones, are an absolute must that should be supported by a theme.
Read more: See a full overview of all factors we consider when choosing the best WordPress themes.
This is our selection of the best WordPress themes for a travel blog:
1. Soledad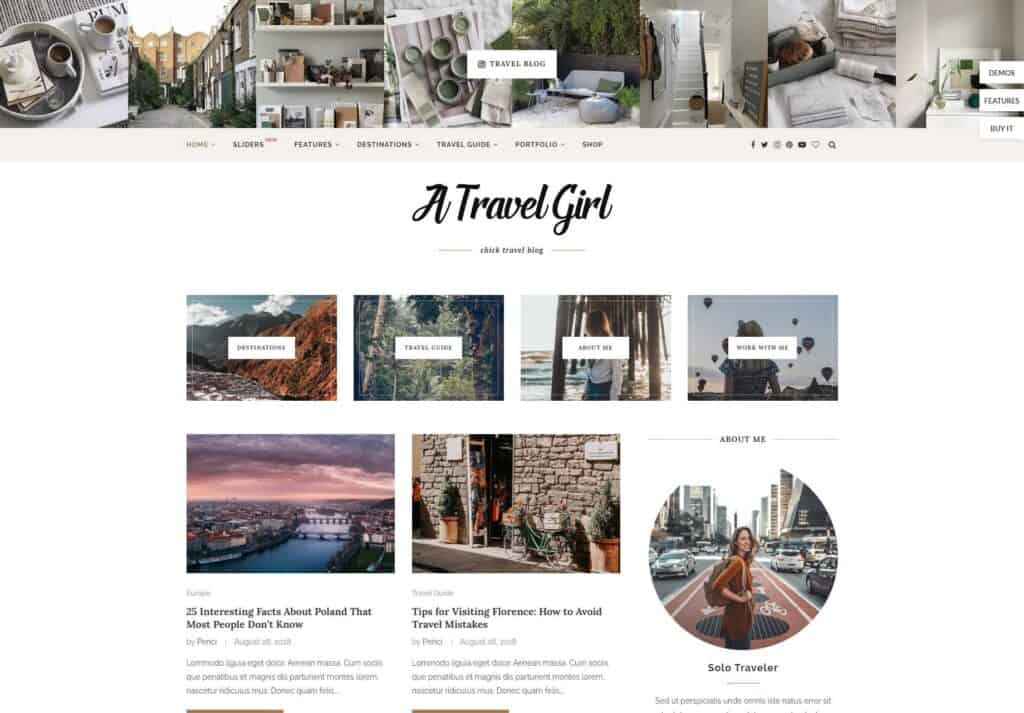 Soledad is a beautiful theme for blog websites, such as your travel blog. Some of the theme's features:
Promises great performance (9 out of 10 in Google Pagespeed ranking).
Has tons of customizable theme options to design your website the way you want.
Handy features included, such as a photo gallery, lightbox, and Pinterest feed.
Supports many popular plugins, such as WPML for translations, ACF, and even WooCommerce.
Is optimized for SEO.
Is fully compatible with both Elementor and WP Bakery Pagebuilder and even has widgets for those included.
With all the offered options you can be easily overwhelmed. The theme has very high ratings, has been bought by thousands of others, and is being updated for many years already. We recommend this theme for your blog.
Costs: $59
2. Malina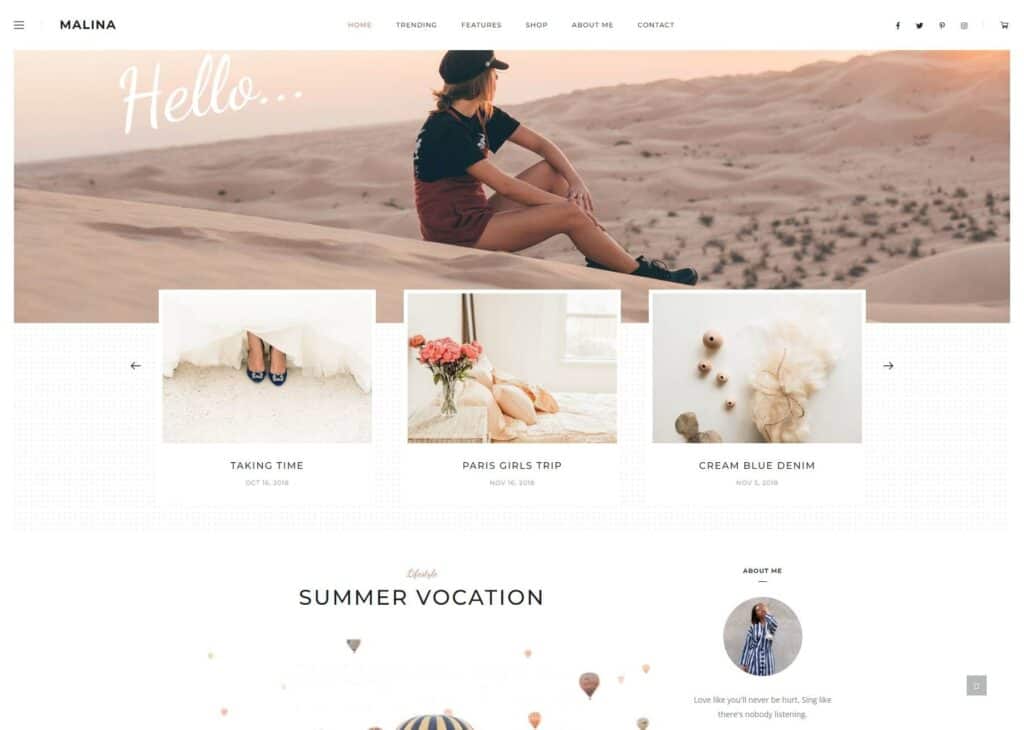 Malina is a theme aimed at personal blogs. Although it isn't as extensive as the previous theme, it does have features that come in handy for blogs. A short summary of Malina:
Works perfectly well with Elementor (even has its own widgets), and WP Bakery is included.
Can be adjusted according to your wishes with a lot of available design options, such as different header styles.
Has an Instagram widget, post slider, photo slider, and multiple blog layouts.
Moreover, Malina gets high ratings, has been bought thousands of times, and has been consistently updated for many years.
Costs: $59
3. Authentic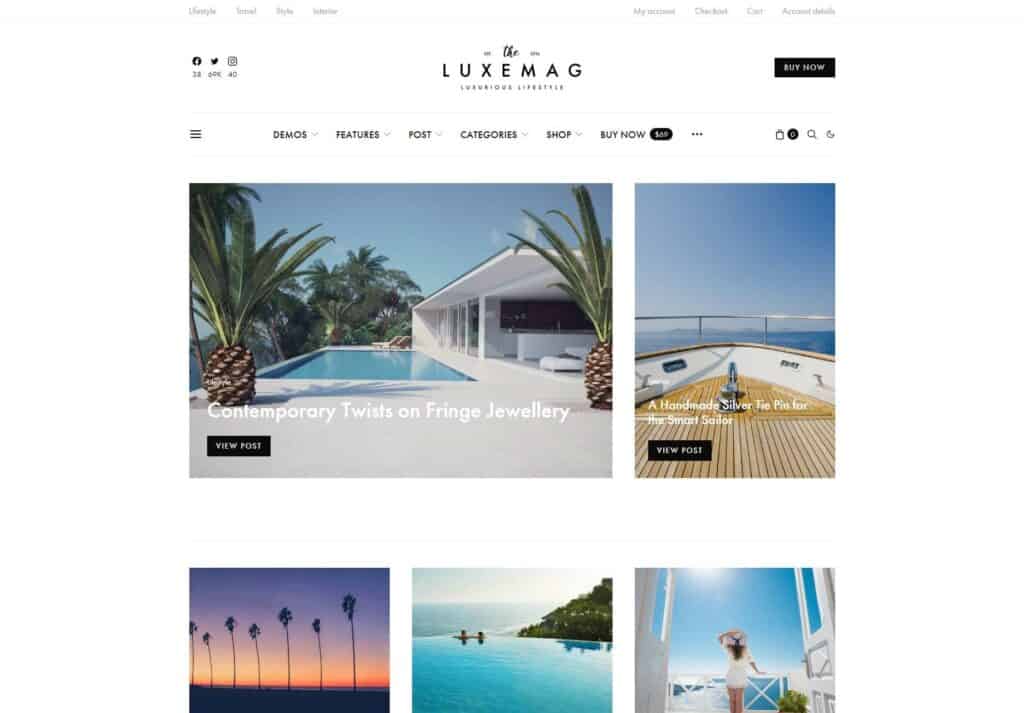 The Authentic theme as well is a lifestyle blog theme aimed at everyone who wants to build a blog. It has a couple of great features included that can be useful.
Handy blog features (such as special widgets, an automatic 'reading time' calculator to be shown in blog posts, the ability to leave reviews for a blog post, and more).
Handy built-in features such as popups, forms, extensive mega menus, video backgrounds, diverse header styles, social media widgets, and more.
Support for multiple third-party plugins, such as WPML for translations and WooCommerce.
Optimized for speed.
The only thing you should note is that this theme is not specifically optimized for Elementor or WP Bakery page builder (although it is perfectly compatible). Instead, this theme prefers working with Gutenberg and has its own page builder included, called Canvas.
Authentic gets high ratings as well and is being updated for years already. A great theme for your travel blog!
Costs: $69
4. Jupiter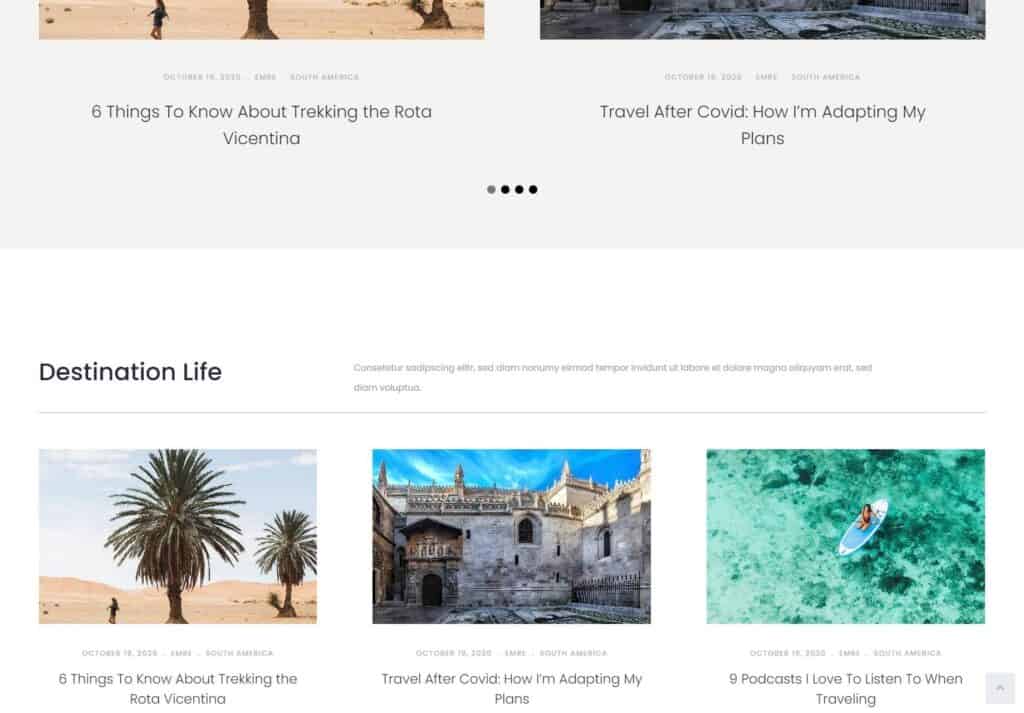 If you are looking for endless flexibility, Jupiter is worth considering. It is one of the biggest WordPress themes out there. That's not positive per se: it does result in lots of unnecessary features and a somewhat heavier theme. On the other side, it results in lots of functionality and non-stop updates.
Jupiter is built on Elementor (although it also works with Gutenberg and WPBakery), which already ensures great functionality around galleries and page elements. Besides that, Jupiter offers lots of interesting opportunities for travel blogs, such as:
Built-in premium plugins (like Jetblog which allows you to design blog posts the way you want) and other plugins (like a form builder).
Tons of own styles and theme options to design websites the way you want.
Integrates with plugins such as WPML, sliders, and even WooCommerce.
Lots of pre-built layouts for a quick start.
Besides that, Jupiter has high ratings, has been bought by almost 200.000 users already, and has been updated for 10 years already.
Costs: $59
5. Buzz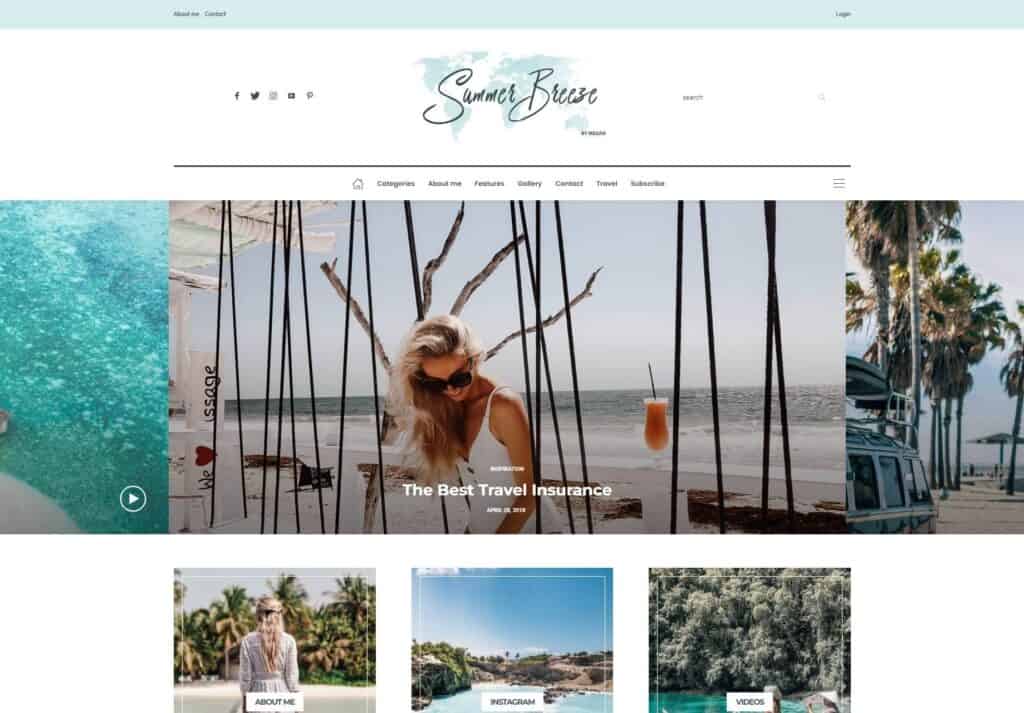 Buzz calls itself a powerful WordPress theme for personal blogs and magazines. The theme has a big focus on photography, so if you want your images to stand out, Buzz is the right theme to go.
It's not as popular as the aforementioned themes, but that doesn't mean it is less interesting. Especially for the smaller, personal travel blog, this theme is worth considering. It also works together with Elementor. Some other highlights are:
Around 15 pre-built theme's for you to use.
Access to a couple of useful integrations, like social share buttons, a Pinterest and Instagram widget, a photo gallery, a mega menu, and more.
Supports other plugins such as WooCommerce and WPML.
Offers different types of customizations in styling
Costs: $49